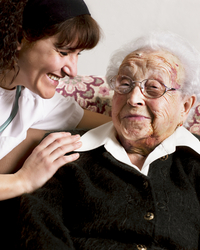 "This collaborative relationship will continue to be of great benefit to individuals and organizations looking for high quality online geriatric programming on end-of-life issues," states Betty Ferrell,RN PhD, FAAN, FPCN
Hyannis, MA (PRWEB) June 29, 2010
The Hospice Education Network (HEN) today announced the addition of nine End-of-Life Nursing Education (ELNEC) Geriatric Palliative Care modules to their current catalog of courses. The filming and inclusion of these modules in the HEN library marks another significant milestone in the collaboration between HEN and ELNEC, the premiere developer of end-of-life curriculum for nurses in the country. The HEN /ELNEC collaboration first began in December of 2008 with the online availability of ELNEC's Core Curriculum. In late Spring 2010, HEN added ELNEC's Pediatric Palliative Care Curriculum and will be adding ELNEC-For Veterans in the Fall of 2010
The aging population trends are staggering. The Administration on Aging (AOA), states that in 2010 the percent of the population 65 and older is 13% and is projected to increase to 25% by 2030. Aligned with that, according to Hartford Geriatric Nursing Initiative(HGNI), elders over 65 represent 60% of all ambulatory adult primary care visits, 80% of all home care visits, about 50% of inpatient care, and 85% of residents in nursing homes. Health care organizations must ensure that their staff is prepared to provide for the unique needs of older patients. As the number of elders grow, the number of patients seeking palliative care is also growing substantially each year. ELNEC has created the Geriatric Palliative Care Curriculum to meet this critical need and HEN is making it available online to health care organizations and professionals that serve this population.
"This collaborative relationship will continue to be of great benefit to individuals and organizations looking for high quality online geriatric programming on end-of-life issues," states Betty Ferrell, PhD, FAAN, Principal Investigator of the ELNEC project. "The needs of the geriatric population in this country are so unique and are increasing every day. It is vital that nurses in all clinical, community and home care settings be educated in caring for the elderly, so the care can be provided seamlessly. We are grateful for our partnership with the Hospice Education Network. This technology has made these programs available to individuals and institutions that have limited resources and would otherwise be unable to participate in an ELNEC training program. It is one of the most effective methods we have seen to provide this very important education to clinicians regardless of setting."
"These programs can also be utilized by all levels of direct care, nursing staff and clinicians in other practice settings, such as continuing care retirement communities (CCRCs), Assisted Living Facilities (ALFs), Skilled Nursing Facilities (SNFs), schools of nursing and geriatric practice groups," states Sheila Flynn, CEO of Weatherbee Resources and Hospice Education Network. "Anyone caring for elders and their families would benefit from viewing these modules. The demand for high quality end-of-life education, that is relevant and accessible, has never been greater and the HEN/ELNEC collaboration continues to make it possible to begin to meet that demand," she adds.
The expert ELNEC faculty for the Geriatric Palliative Care curriculum include: Betty Ferrel, RN, PhD, FAAN, FPCN; Barbara Head, PhD, RN MSW, ACHPN; Carol Long, PhD, RN, FPCN; Mary Ersek, PhD, RN, FAAN; and Patricia Berry, PhD, APRN, ACHPN, FAAN.
All courses include CEs for eligible nurses or social workers. Modules presented on HEN are for training purposes only. For those seeking to become ELNEC trainers, they must take a ELNEC Train the Trainer course.
About the Hospice Education Network
The Hospice Education Network, owned and operated by Weatherbee Resources, Inc., is a comprehensive, innovative service that offers staff orientation programs, annual in-services, volunteer training and specialized learning modules addressing the education needs of hospice programs and end-of-life care professionals. Headquartered in Hyannis, MA, HEN offers more than 150 hospice and palliative care courses . For more information, please visit the Hospice Education Network website, contact info(at)hospiceonline(dot)com or call 866 969 7124.
About the End-of-Life Nursing Education Consortium
The End-of-Life Nursing Education Consortium (ELNEC) is a national educational program administered by City of Hope National Medical Center (COH) and the American Association of Colleges of Nursing (AACN) designed to enhance palliative care in nursing. The project, which began in February 2000, was initially funded by a major grant from The Robert Wood Johnson Foundation (RWJF). To date, over 10,000 ELNEC trainers, representing all 50 US states and 63 international countries have received ELNEC training through these national courses and are sharing this new expertise in educational and clinical settings. For more information please visit the ELNEC website or contact pmalloy(at)aacn(dot)nche(dot)edu or call (202) 463-6930 ext. 238.
# # #