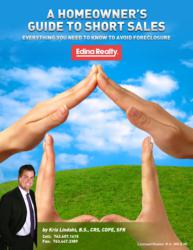 "With a standard Freddie Mac, or Fannie Mae conventional loan the entire short sale is negotiated on a website called Equator.com."
Hennepin County, MN. (PRWEB) September 07, 2012
A top Hennepin County Short Sale Agent Kris Lindahl, is also a top Wells Fargo short sale agent. Kris Lindahl explains, "that the way the Wells Fargo short sale process work depends on the type of loan. For example, Wells Fargo is the servicer on the loan, and the investor could the Freddie Mac, Fannie Mae, FHA, or VA."
"As far as obtaining a FHA short sale with Wells Fargo," a top Hennepin County Short Sale Agent Kris Lindahl reveals, "they are negotiated out of the Milwaukee office. Short sales are done by the traditional fashion, communicated with the negotiator by phone, or by email." Kris Lindahl says, "and a VA short sale is handled from the Milwaukee or Des Moines office."
"With a standard Freddie Mac, or Fannie Mae conventional loan the entire short sale is negotiated on a website called Equator.com." The Equator.com website is a complete solution website for Default Servicing, which Improves efficiency while enabling compliance with regulatory requirements, and internal policies using Equator's proven solutions.
Kris Lindahl says, "The VA short sale loans have some of their own specific set of documents, plus there are different things within each of the investor specific documents that will change how the short sale process works." Kris Lindahl elaborates, "with a traditional type of short sale loan, all of the approval letters come through the Equator.com website, or they go through a secure messaging system. This is why it is imperative for homeowners to contact an experienced Hennepin County short sale agent to handle their short sale."
"Since there could be different investors on the loan, and depending upon which investor is involved, the process is different. That is why homeowners need an experienced, proven short sale agent to help them with the short sale of their home," Kris Lindahl, a top Hennepin County Short Sale Agent explains.
Contact Kris Lindahl, and the Kris Lindahl Short Sale Team at 763-447-3925 for help getting a Wells Fargo short sale, because Kris Lindahl, and his Short Sale Team are the leaders in the country with Wells Fargo short sale loans, and have a long, proven track record in getting short sale loans approved for Minnesota and Wisconsin homeowners.
Kris Lindahl, also has additional information, and thoroughly covers all aspects of the short sale process, in the newly published comprehensive "Homeowners Guide To Short Sales" book.
"The Kris Lindahl team of experienced short sale agents can quickly handle any Minnesota short sale, or a homeowner looking for a Wisconsin short sale should visit the WisconsinShortSaleCalculator.com website," Kris Lindahl says.
Call Kris Lindahl at 763-447-3925 or visit the MNShortSaleCalculator.com website for more short sale information. Download a copy of the "Homeowners Guide To Short Sales" at the HomeownersGuideToShortSales.com website. Wisconsin homeowners looking for short sale information can visit the WisconsinShortSaleCalculator.com website.