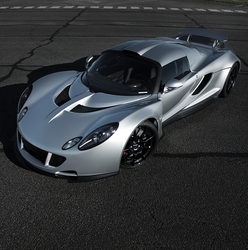 It is also just the beginning as we begin to demonstrate the performance capabilities of the Venom GT in the near future.
Sealy, TX & Silverstone, England (PRWEB) June 13, 2010
Hennessey Performance Engineering (HPE) is proud to announce the delivery of the company's first production-ready Venom GT supercar. Having left its UK production facility, the #01 Venom GT is headed to the UAE where it is to be delivered to its new owner by Hennessey's exclusive Middle East distributor, Al DiMora of DiMora Motorcar.
"This is the fulfillment of a dream that I have had since I was a kid", says company founder, John Hennessey. "But it is also just the beginning as we begin to demonstrate the performance capabilities of the Venom GT in the near future".
The top tier model, the first production Venom is powered by a twin turbocharged Chevrolet LS-series aluminum V8 producing 1,200 hp and 1,135 lb-ft torque mated to a 6-speed Ricardo manual transaxle (the same as found in the Ford GT). Boasting a dry weight of just 2,548 lbs and a curb weight of 2,685 lbs with a full tank of fuel, the car delivers on its promise of an astounding power-to-weight ratio.
Harnessing this power is a chassis that is a far cry from the Lotus Elise which it's derived. Aside from reusing the windshield, doors, roof, floor, dash and various trim components, the Venom GT's design and construction has been engineered from the ground up for a truly unique supercar. An all-new front and rear space frame and suspension is cloaked in a new carbon fiber body, sporting an adjustable rear wing for exceptional high-speed stability.
Production levels of the Venom GT range from the base 725 hp supercharged LS9 V8 unveiled in the original prototype car to 1,000 hp and 1,200 hp twin turbo V8 variants. Each vehicle is painted and its interior crafted to each owner's specification, offering the opportunity for one-off exclusivity.
Each Venom GT is built in Silverstone, England, with power plants sourced from HPE's Texas headquarters. Available in both left and right-hand drive configuration, the Venom GT is an international supercar fusing the power and emotion of American V8 muscle with the refinement of Britain's renowned racing heritage.
About Hennessey Performance
Hennessey Performance Engineering (HPE) has been making fast cars go faster since 1991. It operates a 30,000 square foot workshop and showroom facility situated on 143 acres near Sealy, Texas (about 45 minutes west of Houston). The company also operates a showroom and installation facility located in Lake Forest, California. HPE offers a wide variety of dyno proven, track tested parts and upgrades for a variety of modern performance vehicles. Hennessey Performance is also the only tuner in North America that operates its own test track – Lonestar Motorsports Park.
# # #