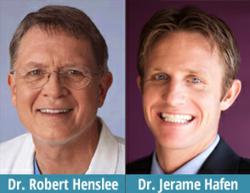 Right now almost 30% of the visits to our website are from mobile users...
Universal City, TX (PRWEB) September 10, 2012
Individuals looking for a new dentist in the Universal City area of San Antonio can now send in a request for a New Patient appointment with the Henslee Dental Team over their mobile phone without the need of calling. Henslee has taken the step of upgrading their already popular website to be more user-friendly for mobile phone users by incorporating responsive technology.
A responsive website is one which automatically adjusts to the operating system and device accessing it, so graphics, headers, text will fit appropriately to the device. A special mobile website is no longer necessary and the site retains essentially the same look and feel as the site seen on a laptop or desktop monitor.
"Right now almost 30% of the visits to our website are from mobile users and 84% of those are brand-new people," enthused Dr. Henslee, "The 'New Patient Special' form on our site has been extremely popular, and has resulted in more new patients walking through our doors for treatment than ever before! We are excited to see how the recent changes to our website are making it easier for mobile users to access our site, and get in touch with us quickly and conveniently from their smartphones."
DENTAL IMPLANTS, CREATING A MORE NATURAL LOOKING SMILE…
The Henslee Dental Team, while maintaining a full service family dentistry practice, also delivers dental implants, under the leadership of Dr. Jerame Hafen. On staff with Henslee Dental Team since 2009, Dr Hafen graduated from the New York University College of Dentistry and has completed post-graduate dental implant training and certification. He is a member of the American Academy of Implant Dentistry, and has helped many patients restore function and a natural-looking smile, without the need for fixed or removable dental appliances.
"Universal City, Schertz, and their surrounding areas are a growing part of San Antonio and more and more people, especially middle aged and seniors, are looking for dental implants to renew and their smiles. We actually live in an age of miracles as far as what dentistry can accomplish these days, and we are proud to be able to offer our services to these individuals. It is another miracle that we can make it even easier to find us and book an appointment through the latest modern communications technology," finished Dr. Henslee.
ABOUT HENSLEE DENTAL TEAM
Henslee Dental Team is a family dental practice, offering braces, dental Implants, and cosmetic dentistry, as well as full hygiene care. Proudly keeping families smiling in Universal City, Live Oak and Schertz since 1971, Dr Robert W. Henslee, Jr. and Dr. Jerame K. Hafen, lead a staff of fourteen. The doctors volunteer in the surrounding community through a variety of good causes including Give Kids a Smile, Haven for Hope, and Boy Scouts of America.
For more information:
Jean Henslee
(210) 658-3131
http://www.hensleedentalteam.com