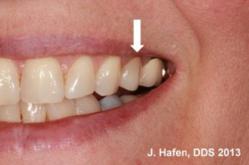 The newest all-porcelain crown I now prefer, which gives both durability and aesthetics, is called an E-Max crown.
Universal City, Tx (PRWEB) February 06, 2013
In a recent blog post on the Henslee Dental Team website, Dr. Jerame Hafen outlines the use of dental crowns for patients in easily understandable language. He goes on to promote the latest technological breakthrough in the subject which is a new all-porcelain model which doesn't chip, stain or break called the E-Max.
Dental crowns are used to cover and protect broken and damaged teeth allowing the patient to preserve the tooth and its function. Crowns are also sometimes used for aesthetic reasons. Some people may not like the cracks, chips, gaps, or even the shape of their teeth. Crowns can give them the smile they desire.
Dental crowns have been around for many years. Many substances have been used to make them in the past - gold, ivory, bone and even human teeth. More modernly, dentists have used crowns made of all-metal or porcelain-fused-to-metal or an all-porcelain type. Although an improvement over earlier materials for crowns, the main disadvantage of these materials has been in lack of long-term durability and strength. Aesthetics were seen as more important to the patient than durability.
Dr. Hafen writes, "All of these types of crowns function well. The primary difference between them all is aesthetics – how they look in the mouth. The all-porcelain crowns have been the first choice in aesthetics for many years, but their main disadvantage in the past has been the durability or strength of the crown. With a breakthrough in research and materials, now all that has changed! The newest all-porcelain crown I now prefer, which gives both durability and aesthetics, is called an E-Max crown."
"The E-max crown is considered a breakthrough in dental crown technology. I read an article last year from Clinicians Report, that in their 35 years of testing "these are first crowns to show NO cracks, chips, breaks, wear, or staining after their first year of service in the patient's mouth." E-max crowns are considered the best match with the existing, natural teeth surrounding the crown. Since E-max porcelain crowns do not have a metal alloy base, the finished crowns have a much more natural, translucent look than ever possible before!"
Dr. Hafen is a graduate from New York University College of Dentistry (NYUCD). While at NYUCD, Dr. Hafen received numerous awards for his outstanding clinical skills and also for his patient relationship skills. He joined Dr. Robert W. Henslee of the Henslee Dental Team in September of 2009. Dr. Hafen has since received Dental Implant training and certification, and implemented Henslee Dental Team's implant program in 2010. His interest in the San Antonio area community extends to weekly work with elementary children through the San Antonio Metro Dental Health Program.
The Henslee Dental Team has been serving Universal City and the surrounding areas of Schertz, Live Oak, Randolph Air Force Base, Converse, Cibolo, New Braunfels, Selma, Garden Ridge and Bracken since 1971.