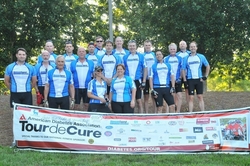 Events like the Tour de Cure are the types of programs that are going to help us stop diabetes
Rocky Mount, North Carolina (PRWEB) September 27, 2010
After raising $23,664 for the American Diabetes Association, the HensonFuerst Cycling team has been named the top team fundraiser for the 2010 Eastern North Carolina Tour de Cure. Team member Doug Boggie also was named as the top individual fundraiser by raising $10,075.
"Events like the Tour de Cure are the types of programs that are going to help us stop diabetes," said Amanda Law, Associate Manager at the American Diabetes Association. "We are so grateful for the team commitment that HensonFuerst continues to display to help our mission."
For the last five years, members of the HensonFuerst Cycling Team have joined hundreds of fellow cyclists as they rode to raise funds and awareness for the ADA during the Tour this past June. The team was led by HensonFuerst attorney Thomas Henson Jr., who also served as this year's event Chair and helped manage the subcommittees that organized the event, recruited riders, and raised funds. Additionally, the HensonFuerst Cycling Team raised more than $21,000 during the last two Tours and was named one of the 2009 Tour de Cure Top 100 Fundraisers.
"Diabetes is a dangerous disease that affects people of all ages, races, and backgrounds. It's a great feeling to work as a team to do our part in solving this problem," said Henson, who was diagnosed with type 1 diabetes at age nine and has successfully managed his disease with diet and exercise for more than three decades. Henson raised $2,672 during last year's Tour and received a Fundraising Achievement Award at the ADA's 2010 Unmasking a CURE Gala earlier this year for being one of the top three individual fundraisers in 2009.
American Diabetes Association's Tour de Cure
The Tour de Cure is the nation's largest event to raise money to fight diabetes, and thousands of riders and teams have participated in the event since its inception in 1991. Last year, more than 38,000 cyclists raised almost $16 million to support the ADA's mission to prevent and cure diabetes and to improve the lives of all people affected by diabetes.
The HensonFuerst Health Initiative
The Tour de Cure is one of many projects and events in which the members of HensonFuerst devote their time. To recognize the importance of giving back to the community, the firm established the HensonFuerst Health Initiative, a comprehensive plan that encompasses all of the law firm's community and service efforts. The initiative encourages both community and firm members to prevent injuries, improve health and fitness, and aid organizations committed to bettering health and well-being. To learn more about the HensonFuerst Health Initiative, visit http://www.lawmed.com/health-initiative.
###