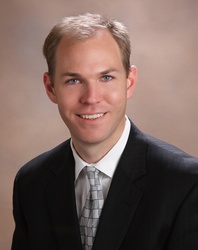 We're looking forward to David's leadership. With his continued help, our organization will only get better.
Rocky Mount, NC (PRWEB) December 7, 2009
For more than 16 years, the members of the Down East Partnership for Children (DEPC) have been improving the quality of life for the youngest community members of Nash and Edgecombe counties through innovative, family-focused programs. Following in DEPC's tradition of advancing early childhood education, local father and attorney David Henson will be chairing the organization's Board of Directors beginning January 1, 2010.
During his three-year term on the board, Henson will assist Henrietta Zalkind, DEPC's Executive Director, to ensure local legislators understand the importance of universal access to quality education. Utilizing his background in management and marketing, he also will help spread DEPC's message to the residents of Nash and Edgecombe counties.
"We're looking forward to David's leadership as chair of the Board of Directors," Zalkind said. "He's graciously taken time from his law practice to further the mission of DEPC, and with his continued help, our organization will only get better."
Family values are essential to Henson, who has two young sons of his own and works alongside his wife and brother, also attorneys at family-operated law firm HensonFuerst. "For years, DEPC has been helping children get an early educational start," Henson said. "They offer amazing services to all families and children in our community. Most importantly, they help people truly understand our children are tomorrow's future and they must be given the tools to achieve success at an early age."
16 Years and $72.5 Million Later
Since 1993, DEPC has provided $72.5 million to Nash and Edgecombe counties through public and private grants and programs. It also serves more than 24,000 children and families each year by:

Providing quality child care scholarships
Offering free pre-kindergarten classes
Providing resource and referral services to a full continuum of family support programs
The organization offers a variety of other programs and services--such as early childhood education, school readiness and transition, parent and family support, and leadership development. Recently, DEPC launched two major campaigns, Ready2 and the Healthy Kids Collaborative, to complement the ongoing Smart Start and More at Four initiatives. These programs are designed to foster educational success for children and their families as well as for schools and childcare providers. To learn more about DEPC, visit http://www.depc.org.
About the Down East Partnership for Children
A nonprofit organization, the Down East Partnership for Children helps children become lifelong learners by surrounding them with a united and supportive community--which includes parents, teachers, childcare providers, schools officials, and human service agencies as well as local business, government, and religious leaders. Together, they create innovative, collaborative, and family-friendly offerings to complement existing childcare and education services within the community.
About HensonFuerst
For more than 30 years, the lawyers at HensonFuerst have represented those injured by the negligence of others. To recognize the importance of helping their neighbors, the firm established the HensonFuerst Health Initiative, a comprehensive plan that encompasses all of the law firm's community and service efforts. The initiative encourages both community and firm members to prevent injuries, improve health and fitness, and aid organizations committed to improving health and well-being. To learn more, visit http://www.lawmed.com/health-initiative.
# # #