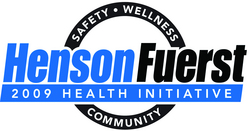 We want to show everyone how strongly we feel about being heart healthy and keeping fit
Rocky Mount, N.C. (PRWEB) October 14, 2009
The members of HensonFuerst do more than fight for their clients--they're also fighting for the millions of people affected by heart disease, the nation's leading killer. For the third year in a row, the firm's members will walk to raise funds and awareness during the American Heart Association's Start! Heart Walk in Rocky Mount on Saturday, Oct. 24. The team has raised a total of $2,770 during the past two walks and hopes to increase that amount by at least $1,750 this year.
"We want to show everyone how strongly we feel about being heart healthy and keeping fit," attorney David Henson said. "We're working together to raise money for research and encourage our friends, family, and neighbors to lead healthier lives."
Leading by Example
The members of HensonFuerst know the importance of heart health at any age. Whether it's participating in triathlons, running for a cause, or cycling 100 miles, many firm members--whose ages range from 18 to 70--have participated in athletic events to raise money for various charities. To recognize the importance of being healthy as well as giving back to the community, the firm established the HensonFuerst Health Initiative to encourage the community and firm members to prevent injuries, promote health and fitness, and aid organizations committed to improving health and well-being.
Taking North Carolina's Pulse

One in every three North Carolinians has some form of heart disease.
More than 30 percent of deaths statewide are caused by cardiovascular disease--that's one death every 22 minutes.
Each year, total hospital charges for heart disease exceed $3.3 billion in North Carolina.
American Heart Association's Start! Heart Walk
As the American Heart Association's signature fund-raising event, the Start! Heart Walk promotes physical activity and heart-healthy living in a fun family environment. This year, at least 1 million walkers will participate in hundreds of events across the country. The walk has raised more than $600 million nationwide since it was launched in 1994.
About HensonFuerst
HensonFuerst, P.A., is a North Carolina-based law firm focusing on catastrophic injury, nursing home abuse, auto accident, workers' compensation, Social Security Disability, and mass tort cases. For more than 30 years, the lawyers at HensonFuerst have represented those injured by the negligence of others. With successful multimillion-dollar verdicts and settlements throughout the state of North Carolina, the team of 11 lawyers and 37 staff members at HensonFuerst offers considerable experience and resources for their clients. For more information about the firm, visit http://www.HensonFuerst.com.
Sources:
Justus-Warren Heart Disease and Stroke Prevention Task Force
North Carolina State Center for Health Statistics
###