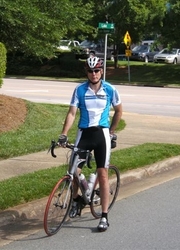 Thomas brings his words to action and inspires us to surpass our goals
Raleigh, NC (Vocus) February 8, 2010
This June, hundreds of cyclists will pedal Carolina's scenic back roads to raise funds for diabetes research during the Eastern North Carolina Tour de Cure. Spanning from Cary to Southern Pines, "the Tour" is a great experience for cyclists and an even greater challenge for event organizers. Everything from mapping routes and forming committees to coordinating rest stations and booking entertainment must be planned months in advance. And the man in charge of it all is attorney and avid cyclist Thomas Henson Jr. Whether he's turning the wheels of justice or the ones on his bicycle, Henson is moving forward at an impressive pace.
"Thomas brings his words to action and inspires us to surpass our goals," said Amanda L. Law, an Associate Manager of the American Diabetes Association. "He has the tremendous talent and professionalism that is key to the success of our event and the committee he leads."
Henson, who served as last year's event co-chair, will help manage the subcommittees that organize the event as well as recruit riders and raise funds for the event. He's also responsible for facilitating committee meetings and monitoring tour finances.
Putting His Mettle to the Pedal
Riding his bike an average of 70 to 100 miles weekly, Henson began riding in the Tour about five years ago and has been participating in charity cycling events for almost eight years.
"Every mile we ride and every dollar we raise brings us that much closer to finding a cure for diabetes, which affects more than 23 million Americans," said Henson, who was diagnosed with type 1 diabetes at age nine and has successfully managed his disease with diet and exercise for more than three decades.
Henson raised $2,672 during last year's Tour and recently received a Fundraising Achievement Award at the American Diabetes Association's 2010 Unmasking a CURE Gala for being one of the top three individual fundraisers in 2009. Additionally, the HensonFuerst Cycling Team raised more than $21,000 during the last two Tours and was named one of the 2009 Tour de Cure Top 100 Fundraisers.
About the American Diabetes Association's Tour de Cure
The Tour de Cure is the nation's largest event to raise money to fight diabetes, and thousands of riders and teams have participated in the event since its inception in 1991. Last year, more than 38,000 cyclists raised almost $16 million to help prevent and cure diabetes and improve the lives of all people affected by diabetes. Click here to learn more.
The HensonFuerst Health Initiative
The Tour de Cure is one of many projects and events in which the members of HensonFuerst devote their time. To recognize the importance of giving back to the community, the firm established the HensonFuerst Health Initiative, a comprehensive plan that encompasses all of the law firm's community and service efforts. The initiative encourages both community and firm members to prevent injuries, improve health and fitness, and aid organizations committed to bettering health and well-being. Click here to learn more about the HensonFuerst Health Initiative.About HensonFuerst
http://www.lawmed.com/north-carolina-injury-lawyer.php [HensonFuerst, P.A.
, is a North Carolina-based law firm focusing on catastrophic injury, nursing home abuse, auto accident, workers' compensation, Social Security Disability, and mass tort cases. For more than 30 years, the lawyers at HensonFuerst have represented those injured by the negligence of others. With successful multimillion-dollar verdicts and settlements throughout the state of North Carolina, the team of 10 lawyers and 25 staff members at HensonFuerst offers considerable experience and resources for their clients.
###