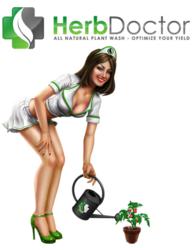 "I have heard from our dedicated group of garden testers that Herb Doctor products deliver amazing results. I am convinced that foliar fertigation is the future of plant nutrition
Carlsbad, CA (PRWEB) July 19, 2012
Herb Doctor deals with garden problems by stopping them before they start. Plant washes like Herb Doctor have become popular among growers and gardeners alike for treating and preventing garden problems.
Herb Doctor Plant Washes are the first line of plant washes to include plant growth nutrients right in the mix. Herb Doctor plant washes are designed for foliar applications, and deliver essential plant nutrients directly to plant leaves using a proprietary delivery system.
Growers can use Herb Doctor products regularly to deliver nutrients to their plants through foliar fertigation. Combining Herb Doctor with conventional root-fed products can improve garden yields by maximizing plant nutrient uptake.
Fast Acting Relief of Plant Nutrient Deficiencies and garden problems.
One of the benefits of Herb Doctor Plant Wash is that they deliver nutrients directly to the leaves of the plant, providing fast relief of plant nutrient deficiencies. Growers with nutrient lockouts can use Herb Doctor products to maintain their garden's health while nutrient problems in soil or grow mediums are corrected.
Products to be featured at Maximum Yield's Indoor Gardening Expo
Herb Doctor will showcase its line of new products at the show. Attendees of the Indoor Gardening Expo can expect to find:

Herb Doctor Super Wash™ – Maintains plant hygiene and boosts plant growth with added potassium nutrient
Nitro Boost™ – Plant wash enhanced with Nitrogen for explosive growth!
MagnaCal Balance™ – Plant wash with magnesium and calcium for healthy leaves
Visit Herb Doctor at booth #546 and get a free 16 oz. sample of Herb Doctor. The Head of Herb Doctor Research and Development, Leo R. McDevitt, will be on hand to discuss the benefits and proper use of Herb Doctor for plant nutrition and nutrient deficiency correction.
About Herb Doctor:
Herb Doctor's parent company, HydroSafe Solutions' Founder, Rick H. Cabados is excited about Herb Doctor's new line of products: "I have heard from our dedicated group of garden testers that Herb Doctor products deliver amazing results. I am convinced that foliar fertigation is the future of plant nutrition"