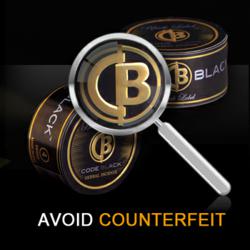 We embossed all packets with a logo, and this logo cannot be properly replicated by those producing fake products. As we say, if you can't find it on the packaging, don't hand over your money.
Tustin, CA (PRWEB) March 15, 2012
According to the industry, the amount of counterfeit and potentially dangerous herbal incense for sale is on the rise. Wanting to help consumers spot the fakes, Code Black Herbal Incense today announces a new set of guidelines that all buyers should stick to.
Each day, thousands of people across the United States are enjoying the benefits of herbal incense. In fact, a look through history shows that even the Romans were keen to improve the quality of their air in the pursuit of relaxation and happiness.
However, Code Black Herbal Incense, a giant among the incense manufacturers, is becoming more and more concerned by the amount of fake products on the market.
"The bona fide herbal incense industry is heavily regulated to ensure that everyone can enjoy its many benefits safely. However, as with any other industry there is a black market putting customers in danger every day. Thankfully, there is a lot consumers can do to be sure that the incense they are buying genuine, safe, and legal" says the Owner of Code Black Incense.
Wanting consumers to have best experience possible, Code Black is today announcing a new of buyers guidelines to separate the incense wheat from the chaff:

All genuine incense is always sold and sealed packets, free from tampering. Non-sealed, poor quality packaging is a sure sign that the herbal incense could be counterfeit.
Genuine incense should have a high-resolution, non-blurry and detailed label. Customers should be suspicious if packaging has a poor quality label, with blurry or unclear imagery.
The vast majority of genuine herbal incense packaging contains some kind of embossed printing or seal. If you can't find this, you cannot prove it genuine.
The contents of any reputable product should be dry, should not have a harsh scent when lit and should not contain stems. If the contents differ to the above, there are no guarantees you have purchased the real deal.
Code Black Incense has worked tirelessly to maintain industry standards in order to offer the best experience to their customers.
With over 10,000 customer reviews for their name, Code Black can attest to the importance of keeping standards high. In fact, the company does more than just sell their world-class products. They have become the first company in their industry to offer free herbal incense articles on their website.
"It is vital to educate so that our industry can continue to operate with the highest standards. We have invested hundreds of hours into the research and writing of numerous articles so that our customers get the most from what they buy" adds Code Black.
Just like the product, Code Black makes it clear that not all retailers are operating with the best intentions. Having come across many companies operating illegally or without regulation, Code Black has this advice to hand on to those who purchase their spice incense online:
First of all, any reputable company will have a physical bricks and mortar address on their website. Anybody operating with no address or out of a PO Box could have something to hide.
As with any other e-commerce site, check for trust marks and an SSL security certificate. This is the absolute minimum a retailer should have if they deserve your business.
WHOIS domain registration records can also help you figure out if the company is who they say they are. If comparing two websites of the same brand, the earliest registered domain name is likely to belong to the most reputable retailer.
Of course, consumers are urged to run Google searches to see if the company they are looking to buy from has received any online complaints. Naturally, as with anything in life, people are not happy 100% of the time. However, any retailer with a noticeably high number of complaints should be avoided.
Code Black Herbal Incense is highly regarded as the most dominant force in the herbal incense industry. As Code Black explains, the company takes active steps to separate their products from try-hard counterfeits.
"We embossed all packets with a logo, and this logo cannot be properly replicated by those producing fake products. As we say, if you can't find it on the packaging, don't hand over your money. At the end of the day, we want customers to be burning our incense and to enjoy the great smelling, relaxing environment of the aroma creates. It's an awesome feeling, we are proud to be leading the industry" Code Black concludes.
For further articles on herbal incense, please visit: http://www.codeblackincense.com/Herbal-Incense-Articles_a/260.htm
To check out the range herbal incense on offer from Code Black, please visit their online store: http://www.codeblackincense.com
About Code Black Herbal Incense:
Code Black Herbal Incense is committed to providing the finest quality herbal incense at the absolute lowest prices. The Code Black Herbal Blend continually strives to elevate your level of aromatic experience by working with a creative and skilled team, who use the highest quality raw materials to produce the very best legal herbal blends.
The company also operates a keen network of dedicated affiliates, as well as a generous rewards program for their customers.
Contact
Contact name: Code Black Incense
Email Address: support(at)codeblackincense(dot)com
Telephone number: (949) 444-2633