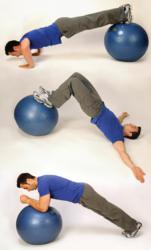 "In addition to achieving muscular strength and definition, Herbal Magic gives you the tools and the power to create your own long-term exercise routine," Fraser Clarke, President of Herbal Magic.
Toronto, Ontario Canada (PRWEB) May 07, 2013
After a particularly long winter, it's hard to believe that the often-dreaded swimsuit season will soon be here. Now that spring has finally arrived (according to the calendar and, only recently, according to the outside temperature) many Canadians face the daunting task to lose weight and get ready for swimsuit season. While body flaws can mercifully remain hidden under bulky sweaters and comfy leggings during the cold and dreary winter, heat waves will soon call for skimpier swimwear – and even the more modest options don't leave much to the imagination in comparison to that forgiving winter wardrobe. Be ready for summer's siren song and take your weight-loss journey to the next level by toning up with the Herbal Magic Get Fit kit.
The Get Fit kit contains a step-by-step book detailing a series of progressive exercises, a stability ball and a resistance band. The easy-to-follow weight-loss program can be completed within the comfort of home – no pricey gym membership necessary.
Here are a few sample exercises to get on the ball – literally – with a new fitness regime:
Awesome arms: Try push-ups with a stability ball. Place hands on the floor slightly wider than shoulder-width apart with legs extended and shins balanced on the stability ball. Lower elbows out to the sides and exhale while pushing up. Begin with one set of 10 repetitions and gradually increase to three sets of 12 repetitions.
Great glutes: Tone that butt with pelvic tilts on a stability ball. Lying face up on the floor, place feet on the stability ball to begin. Push through the heels while exhaling and lifting hips off the floor until knees, hips and shoulders are aligned diagonally. Slowly lower to starting position and repeat 10 times, gradually building to three sets of 12 repetitions.
Amazing abs: Build core strength in plank position with a stability ball. Place elbows on the stability ball and extend legs shoulder-width apart, balancing on the toes of the feet. Maintain this position while keeping core muscles engaged for 45-60 seconds. To increase difficulty, place feet closer together.
It's important to speak with a health care practitioner before beginning any new fitness regime. Once ready to start, the Herbal Magic Get Fit kit offers multiple phases, catering to many different levels of ability with steps to assess, not guess, which level is the right one to get started.
The Herbal Magic Get Fit Exercise Program is comprised of two stages and is designed to work in conjunction with food intake, Herbal Magic Natural Health Products and Personal Coaching. Stage 1 creates the foundation, while Stage 2 builds upon that base. Handy charts provided within the manual are designed to help track progress along the way.
"With the Herbal Magic Get Fit kit, you'll gain more than a better beach body," said Fraser Clarke, President of Herbal Magic Weight Loss Centres. "In addition to achieving muscular strength and definition, we give you the tools and the power to create your own long-term exercise routine."
About Herbal Magic Weight Loss & Nutrition Centres
With approximately 280 centres nationwide, Herbal Magic is the largest Canadian owned and operated weight-loss company in Canada. Every Herbal Magic Canada team member has been extensively trained and certified as an Herbal Magic Personal Health Coach. With the support of its Scientific Advisory Team – comprised of naturopathic doctors, nurses and dieticians – Herbal Magic's weight-loss experts have the experience, training and tools needed to support clients throughout their weight-loss journey. Herbal Magic's comprehensive system of real food, personal health coaching and natural health products is, quite simply, a common-sense approach to lasting weight loss. Visit http://herbalmagic.ca to learn more.