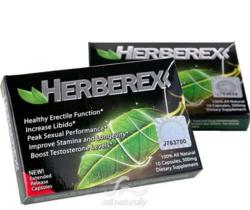 Think Naturally!
Kingston, New York (PRWEB) July 02, 2012
Herberex Inc. is a New York based Male Enhancement Dietary Supplement Company now offering their dietary supplements for private label distribution to prospective clients. All of Herberex products are manufactured under a strict GMP - certified manufacturing process, using only the highest quality naturopathic materials. Interested parties can view Herberex ingredients by visiting the ingredients page.
Herberex Inc. now offers private label supplement services for their all -natural male enhancement product. As a growing Dietary Supplement Distribution Company, they are more than just supplement manufacturers. Private Label clients who purchase Herberex products can feel confident they are purchasing the exact same ingredient formulas presently being used in all Herberex supplements.
Herberex Inc. offers a variety of pre-stocked private label supplement packages that contain proven ingredients for improving overall sexual health. Herberex Inc. prides itself on offering clients personalized services not provided by the large private label companies. In addition to offering private label clients a proven dietary supplement formula, Herberex Inc. recently employed a New York State Licensed Psychologist per diem. The role of this consultant is to create and publish articles educating site visitors on erectile dysfunction, human sexuality, health and wellness. Herberex Inc. has never engaged in false advertising and places a major emphasis on educating consumers.
Stated by Herberex Inc.'s Chief Executive Officer and owner, Bart Panessa "We stand by our products having sold them for years and presently selling them now consistently achieving high satisfaction and reorder rates. We don't need to use embellished advertisements because our product works."
Herberex is an herbal male enhancement supplement formulated to restore erectile health. Herberex functions as a natural aphrodisiac, which enhances arousal and designed to assist men experience heightened erectile stimulation. The Herberex herbal formula allows men to enjoy increased libido, stamina and ongoing sexual functioning without negative side effects. Herberex does not require a prescription and does not deplete supplements consumed by bodybuilders, athletes and sports enthusiasts.
Herberex contains Tongkat Ali, Cordyceps Sinensis, Asian Ginseng Panax Root and Epimedium Brevicornum. Based on consistent consumer feedback, Herberex increases blood flow, nerve stimulation, muscle relaxation, nitric oxide and testosterone production. To ensure safety and quality, Herberex is manufactured in a G.M.P. certified facility. The G.M.P. certification program is based upon third party inspections and comprehensive audits. This program ensures the formulation process is reviewed for safety and quality during manufacturing. Herberex has consistently tested negative for all analogues including PDE-5 tests.
The turnaround time on a private label supplements quote averages 24 hours or less with most quotes offered on the same day of initial contact. As stated above, Herberex Inc. can verify the two most important aspects of manufacturing dietary supplements as follows:
GMP Certified Facility: All of Herberex products are GMP certified affording clients the comfort of knowing their products have been manufactured in a facility that not only meets, but also exceed normal standards for quality manufacturing.
Guaranteed Analogue Free: At the end of 2010, the FDA initiated a public health alert to protect consumers regarding companies manufacturing potentially toxic dietary supplements. As a client of Herberex, private label consumers can be sure their products will always be compliant with all dietary supplement regulations set forth by the FDA.
To speak with the owner and Chief Executive Officer, please call (772) 291-7510 or visit the Herberex Inc. contact page to submit a private label request.
About Herberex Inc.
Nutraloid Labs Inc., owner of Goliath Labs, Colossal Labs and Herberex Inc., is a New York State based Sports Nutrition and Male Enhancement Supplement Company which offers for wholesale, retail and private label their proprietary blend products. In addition to sports nutrition and natural male enhancement products, Nutraloid Labs also acquired ownership in 2010 of an innovative new work out tool called the Bicep Bomber. All Nutraloid Labs products are manufactured under a strict GMP certified manufacturing process using high quality naturopathic ingredients.
Contact:
Bart Panessa
Chief Executive Officer
Nutraloid Labs Inc.
888-362-8714
Website: http://www.herberex.com