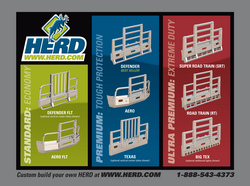 focus on business fundamentals that should be followed, regardless of market conditions
(PRWEB) June 30, 2010
HERD North America Inc., a manufacturer of aluminum bumper replacement grille guards, (commonly referred to as moose bumpers, roo-bars, cow catchers or deer guards) announced that it continues to experience growth despite the slumping economy and record lows for new truck sales over the past few years.
Commercial truck sales have hit up to 17 year lows over the last few years. Despite these challenges, HERD has been a bright light in the after-market truck accessory industry.
"Our growth is focused around three fundamentals, the first one is the ability to effectively identify market trends that require changes in our product offering, production rate and marketing efforts, the second one is continuous improvement and innovation from all employees, which always keeps us several steps ahead of our competitors, and finally, being flexible and creative in the ways to overcome obstacles and best capitalize on opportunities" says Marc Palud, Marketing & Customer Service Manager for HERD North America.
For manufacturers of after-market truck accessories, new truck sales are one of the main indicators of product demand and where the overall economy is heading. Any company serving this industry has met significant challenges over the last few years due to record low truck sales.
Companies that have invested in infrastructure, are well staffed and have plans in place to meet the expected demand and growth as new truck sales numbers increase will be best positioned to grow and prosper in the next growth cycle of the economy. HERD North America has ranked as the 4th fastest growing company in Manitoba for 2009 and the 16th fastest growing company in Manitoba for 2010 as reported by Manitoba Business Magazine.
Current economic indicator shows growth in the truck sales and transport market segments, a reflection of where the economy is heading and good news for North America and companies like HERD who are properly positioned to effectively supply the much anticipated growing demand.
###