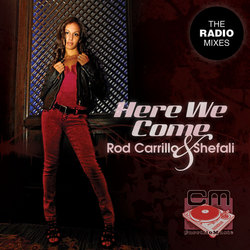 We had a blast creating
Los Angeles, CA (PRWEB) October 6, 2009
Solidifying that the rock dance fusion is hotter than ever, this October Rod Carrillo and Shefali "rock it out" with their sexy new single "Here We Come (Ready or Not)." "Here We Come" is produced by world-renowned dance music veteran Rod Carrillo, who helped propel Kaci Battaglia to the Billboard #1 spot with "Crazy Possessive." With hypnotic and sultry vocals written and performed by Shefali "Here We Come" is destined to clobber the club scene this fall.
"Teaming up with Rod Carrillo has been an amazing experience," states Shefali. "We had a blast creating "Here We Come," and it was such a privilege watching him work. The sounds he uses, the arrangement...he's a truly innovative and mega-talented producer."
Hot on-the-scene recording artist, Shefali, gained her first taste of the limelight as a dancer and model in Cleveland, as well as capturing the crown of Miss India North America. Paul Oakenfold has featured her previous releases on his recent mix CDs and his label Perfecto Records.
Rod Carrillo adds, "Shefali is an accomplished musician and performer through-and-through. There is not much she can't do in the world of music. Our styles completely melded together and the sexy and dark original mix is a true rock house anthem."
"Here We Come" from Rod Carrillo & Shefali is set to release Oct 6, 2009. Packaged with a diverse group of banging remixes from Albert Castillo, Peter Brown, J Paul, Noise Mac, Planet Hum(David Anthony), Dave Matthias and Slick Vic from Fans of Jimmy Century, "Here We Come" is stealing the hearts of ravers and rockers alike. DJs are already spinning the tracks and the feedback has been phenomenal with fan requests and heavy rotation an early reality. The "Here We Come" Albert Castillo Mix is currently found on the October issue of the Promo Only Dance Radio CD and is currently breaking out at mixshow and dance radio stations across the U.S.
With Shefali as your tour guide, the video for "Here We Come (Ready or Not)" is an edgy journey into the world of the after-hours club. The trip to the dark side of the moon & back never felt so inviting. This video will make you want to pack your bags, leave & never come back.
The lightning hot music video currently available on YouTube featuring Shefali and Rod Carrillo in the underground of Atlantic City, brings along Kaci Battaglia, Joanna Krupa, Natalie Reid, Ali Bertash, Freedom Williams, DJ Skribble and Chris Willis for the wild ride. Exhibiting a glimpse of her dance training in a provocative manner, Shefali breaks through the looking glass of beauty, glamour and excitement--encompassing everything that the life entails. She lures her exciting guests to come join in the fun.
Here We Come is out now on Amazon.com, iTunes and all online music retailers. Click Here
About Shefali
Shefali first gained exposure as a professional dancer and model in Cleveland. While keeping her education a priority, she was crowned Miss India North America, became a featured dancer in music videos for artists like Sizzla and Dru Hill, and landed a spot performing along side the world's most prominent djs such as Tiesto and Paul Van Dyk. Her move to New York City and acceptance into NYU's Masters of Music Technology program led to the launch of her career as a singer, songwriter, and producer. She began collaborating with electronic dj/ producers and crossed paths with Chicago's Barrington Lawrence. Their first track "Eclipsing the Sun" caught the attention of the legendary Paul Oakenfold, who released the single EP on his label, Perfecto Records. The "Eclipsing the Sun (Barry Jay Remix)" was selected for Thrive Records' cd release of "Oakenfold: Perfecto Vegas," which topped the itunes Dance and Amazon mp3 Album charts. Following the release, Big Management signed Shefali and put her in front of veteran producer Rod Carrillo. The two completed the rock anthem "Here We Come", and epic house track "Faceless" (Spring 2010). As with her dancing endeavors which span from flamenco to hip hop, Shefali's creativity in music is diverse. Her collaboration with Universal artist the1shanti has led to the formation of Bonita Applebum, who's up-coming album crosses hip-hop and dance, while "maintaining a pop-sensibility."
About Rod Carrillo
Music mogul on the rise, Rod Carrillo, is a native of the Republic of Panama and has been involved in the dance music scene for the past 20 years. From deejaying to club owner to radio programmer, Carrillo never stops. Carrillo's biggest enjoyment comes from working with artists in the studio and writing and producing original music together. Rod's dance hits include: " Moonshine Rising,""Longtime" with Ronnie Sumrall 'Oye Party," "Gringa Quiero Baila" with Bodega Charlie, 'Arizona Bump," "Save Me," "Spotlight" with Eddie Amador, "Free Your Mind" under the name Kario with partner DJ Kilo. Most recently, Carrillo finalized mixing Joanna Krupa's upcoming release to coincide with her Dancing With The Stars appearances. Rod's latest original club mix of newcomer Kaylah Marin's "On the Floor" is being shipped this October as well! Carrillo's newest collaboration with Shefali, "Here We Come," is his current anthem for the music world. Ready or not, Carrillo continues to demonstrate that he is a visionary producer, ahead of the pulse of today's dance music scene.
Carrillo has also crafted productions for Rihanna, Fans of Jimmy Century, America Olivo, Joanna Krupa, Donna Summer, Crystal Waters, Martha Wash, Big Mama Capretta, Crystal Waters, Jupiter Rising and many more.
###