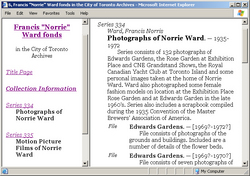 When compiling a database of information that is meant to last a long time it is important to do it
Vancouver, BC (PRWEB) October 7, 2008
Eloquent Systems has recently re-packaged the base components of its Eloquent Librarian™ and Eloquent Archives™ products to create an introductory solution for Special Libraries and Archives. The Eloquent offer provides librarians, archivists and other knowledge managers with a very affordable solution for managing their collections while also allowing them to make their collections more accessible to global Internet searchers. The new solutions are now available for as little as $98.50 per month.
"Our customers cite that they're caught in a 'perfect storm'", stated Merv Richter, President of Eloquent Systems, "The Internet technology has raised stakeholder expectations that information should be available from anywhere in the world at any time of the day. Meanwhile the current U.S. financial crisis is only serving to make already tight budgets even tighter".
Eloquent Systems has been providing Software-as-a-Service hosting options for over 5 years, helping Librarians and Archivists to get their collections up and running quickly - without technology hassles - and without a requirement for IT support. The base components include the traditional tools for building the collection, as well as the ability to manage digital content including oral histories, photographs, PDF's and other scanned documents and even video files. They also include access to Eloquent's unique Internet publishing and search tools including:

PublicSearch™ -- a traditional search interface that allows external researchers to perform detailed searches on the collection.
SpiderSearch™ -- an HTML publishing agent that enables content to be indexed and searched by common search engines such as Google, Yahoo and Microsoft Live.
Also available for a small extra fee is:

VisualSearch™ -- a geospatial search interface that capitalizes on the growth of mapping and location-based tools like Google Maps to allow researchers, historians and archivists to understand information within a geographical context.
"I expect that small institutions as well as very large enterprises will find this unique offering very attractive," suggests Merv Richter, President of Eloquent Systems. "This new offering may be the only solution that small institutions will ever need while it enables large organizations to get off to a quick start."
Users can always trade up to Eloquent's more complete solutions when they are ready. "When compiling a database of information that is meant to last a long time it is important to do it "right" the first time.", stated Richter. "As a user, the Eloquent software ensures that you comply with professional standards as you describe your organizations' holdings."
About Eloquent Systems Inc.
Eloquent Systems is a leader in developing solutions for archives, museums and specialized libraries. With a global customer base, Eloquent Systems has been meeting the knowledge management needs of corporate, government and heritage institutions since 1975.
All Eloquent applications are built using Eloquent's WebGENCAT engine, an extremely fast and robust Web-based tool for powering large information collections. Eloquent solutions can be hosted by a client's internal IT department or through Eloquent's own convenient hosting service. In addition to its own team, Eloquent has a network of associates and agents across North America to service customers directly.
For more information, contact:
Merv Richter, President
Eloquent Systems Inc.
+1-604-980-8358 x101
WebGENCAT, Eloquent Systems and the Eloquent logo are trademarks of Eloquent Systems Inc.
###