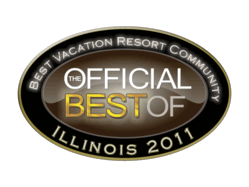 The location's not only beautiful ... it can lead to adventure every time you're on the river.
Ottawa, Illinois (PRWEB) February 29, 2012
When development began at Heritage Harbor Ottawa in 2007, developer Tom Heimsoth had a vision of the resort community and marina being a "jewel" in the Illinois Waterway area and the best in the Midwest.
In 2011, that vision came to fruition. And it just keeps on growing.
Last year, The Official Best of Illinois List named Heritage Harbor Ottawa its 2011 Best Vacation Resort Community.
To watch a video clip of The Official Best of List featuring Heritage Harbor Ottawa, click here.
Nestled in Ottawa, Ill., Heritage Harbor Ottawa is located in Starved Rock Country sitting on the cusp of Starved Rock State Park where the Fox and Illinois rivers meet. This location has many perks, such as an abundance of natural recreational activities, both on the water and off. Not to mention the signature charm of downtown historic Ottawa and surrounding communities, such as the quaint and growing wine town Utica, Ill.
The resort community also features elegant homes on the waterfront, marina, restaurant in the harbor — the extremely popular Tracy's Boat House — and resort amenities.
"And the location's not only beautiful," Heimsoth said specifically of the marina, "but it can lead to adventure every time you're on the river. From here, you can take a day trip to Peoria or travel all the way down to New Orleans and the Gulf. But even if you're just bobbing in the harbor and catching a few rays on deck, we think the Heritage Harbor marina leaves everything else in its wake."
But it's not just the marina, boating and resort lifestyle that wait at Heritage Harbor — there's also the gorgeous waterfront properties. Heritage Harbor has homes perfect for every lifestyle and budget, whether it is a vacation home or year-round. On the edge of the beautiful Illinois River, there are single-family cottages, row homes and waterfront condominiums. Each is designed for a lifetime of low-maintenance ease and beauty at the water's edge.
Although there may be much-publicized news regarding the slowly chugging along housing market, now is the time to take advantage of the best waterfront value in the Midwest. Low interest rates and a burgeoning buyer's market have made vacation home ownership more affordable and accessible than ever before. Second-home properties, especially those located in sought-after waterfront communities, tend to have a more stable appreciation record and higher return on investment than traditional real estate; not to mention coming with a tempting bonus: relaxation and rejuvenation.
In addition to the larger homes in Heritage Harbor, an exciting new partnership with Homeway Homes has also made another waterfront housing opportunity available with the new Cottages at Heron's Landing.
With all of the waterfront real estate options, top of the line marina, Official Best of Illinois Vacation Resort Community 2011 title and ideal location in Starved Rock Country, what are you waiting for?
It's time to create family memories that will last a lifetime and see Illinois' 2011 Best Resort Community. Discover a quality investment opportunity with exclusive waterfront living from Heritage Harbor Ottawa today.
For more information or to schedule a tour of the waterfront properties at Heritage Harbor Ottawa, contact Tammy Barry, marketing and sales director, at 815-433-5000.
###