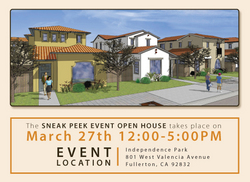 We are honored to again work with the City of Fullerton to provide affordable, environmentally friendly, new homes to the city's residents and employees
Garden Grove, CA (Vocus) March 18, 2010
In another positive sign of an economic turn around, The Olson Company is giving the public a chance to view a sneak preview of Heritage Walk in Fullerton. Olson Homes Heritage Walk broke ground and started grading in February and expects to have models open in May 2010.
These new homes in Fullerton will provide energy efficient and income-restricted homes in the Richman neighborhood of Fullerton. With just 34 single-family homes being built, interest is very high. The priority list is currently forming for Heritage Walk with over 300 first-time homebuyers on the interest list waiting for the sneak peak event set to take place on March 27th. The public is invited to stop by for this one day only open house event and get a peak of what is happening on the corner of Richman and West avenues.
Interested homebuyers are invited to the free Heritage Walk Sneak Peak Event to pick up an information packet about Heritage Walk, learn about the community, see floor plans and renderings of the homes, and attend presentations about qualifying for home ownership at Heritage Walk. The free event will be held at Independence Park 801 West Valencia Avenue, Fullerton, CA 92832 March 27th from 12:00 to 5:00PM.
For more information call Ruben Hernandez at 714.330.5157.
Heritage Walk is located blocks from Fullerton's downtown district and the city's popular Metrolink station, as well as next to Richman Elementary school. The Heritage Walk community will feature three stylish floor plans that range from 1325 to1450 square feet and offer three to four bedrooms. These homes will incorporate Spanish design elevations that compliment the existing neighborhood and surrounding community. "We are honored to again work with the City of Fullerton to provide affordable, environmentally friendly, new homes to the city's residents and employees," noted Steve Olson, Chairman/CEO of The Olson Company. "Following the success of Gallery Walk, Plaza Walk, Studio Walk and recently SoCo Walk in downtown Fullerton, we look forward to creating another flagship project to serve the community," said Olson. Heritage Walk's model homes are scheduled to be completed and available for touring in May with the first homeowners moving in this July.
Heritage Walk provides an affordable home buying option to qualified buyers with sale priority going first to Fullerton residents and individuals who work in the city. Individuals wishing to join the Heritage Walk interest list may obtain additional community information by contacting Heritage Walk.
About The Olson Company
Founded in 1988, The Olson Company is California's leading developer of innovative and affordable In-town communities in established neighborhoods. The Olson Company creates uniquely designed communities which redevelop and enhance neighborhoods utilizing transit-oriented developments, live/work, mixed use developments, brownstones, single family attached and detached homes in partnerships with cities and other agencies.
Headquartered in Southern California with communities throughout the state, Olson is a recipient of America's "Builder of the Year." Further information about Olson Homes can be obtained online at Olson Homes.
###