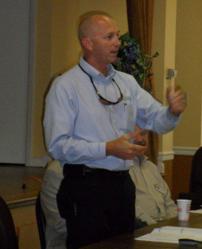 We are excited to be partnering with Home Buyers Warranty Corporation in order to offer a warranty exclusively for CFI customers."
Brooksville, FL (PRWEB) July 24, 2012
The Sinkhole Forum presenters for the Hernando County Association of Realtors event will include subject matter experts from Florida-based, Bracken Engineering Inc. where the firm's watchwords "Rigorous & Responsive" are indicative of their approach to meeting the challenges presented by Florida's landscape. Drew Glasbrenner, Senior Geologist, PG has lead or participated in geology and geophysics investigations for construction, development, and hundreds of forensic investigations involving subsidence insurance claims. Mr. Glasbrenner has spent 15 years doing field work in the Florida terrain which centers on "karst" geology including caves, springs and sinkholes.
Joining him from Bracken Engineering, Inc. will be Jose C. Busquets, EI, StSs, Project Engineer and USAR Structures Specialist. Mr. Busquets has been involved in the design of commercial and residential structures and has conducted and participated in the design of restoration from existing structures damaged by fire, wind, water, explosions, and differential displacement. Important to the conversation will be his experience and specialty in the evaluation and restoration of existing structures especially those affected by differential displacement and/or movement related to problematic subsurface conditions such as those exhibited in Central Florida where sinkholes are suspected.
As a Structures Specialist with Florida's Urban Search and Rescue program, Mr. Busquests has deployed throughout the State of Florida to both natural and man-made disasters. In addition, he has been involved with research, development and advancement of tools and equipment utilized within the field of structural underpinning. Their professional experience in the field of structural engineering and geology will provide a wealth of compelling information to open up an informative discussion with the real estate professionals attending the event.
James J. Collier, President of Certified Foundations, Inc. (CFI) has long been recognized as one of Florida's top General Contractors specializing in the area of sinkhole remediation. While working with many of the state's best engineering firms, CFI has provided Florida foundation stabilization and sinkhole repair solutions for 23 years. Jim Collier was instrumental in the development of the only 10-Year transferable and insurance-backed warranty for foundation stabilization projects available in the nation. This warranty, developed in collaboration with Home Buyers Warranty Corporation, headquartered in Denver, Colorado, now provides CFI customers with the assurance that their home's repair, all workmanship and materials, will be guaranteed by an independent third party for ten years. And since the warranty stays with the parcel, if and when the owner decides to sell, the warranty remains in place. The importance of this is compelling for real estate professionals who are tasked with the job of promoting Florida living in an area where sinkholes have become a challenging sales objection. The added-value provided by Certified Foundations, Inc. because of the inclusion of the unique 2-10 Home Buyers Warranty for Florida foundation stabilization projects, will be a welcome topic in the day's conversation. For more information about this event for real estate professionals and future community presentations by The Sinkhole Forum, contact Nancy Freeman via email at nfreeman(at)cfi-1(dot)com.
About The Sinkhole Forum
The Sinkhole Forum was developed to provide an opportunity to learn about and discuss the complexities of foundation stabilization and sinkhole repair within the areas affected most: Florida communities in Hernando, Hillsborough, Citrus, Pasco, Pinellas, Lake, Marion, Sumter and Polk Counties. This common sense approach brings together various subject matter experts, with the homeowners who are looking for the right and reasonable answers for their remediation questions.
Certified Foundations, Inc. one of the largest and most respected foundation and soil stabilization companies in Florida has partnered with some of Florida's most recognized Geotechnical and Structural Engineering firms, to provide homeowners with the Sinkhole Forum experience. Call it important. Call it necessary. Call it the Sinkhole Forum.
####