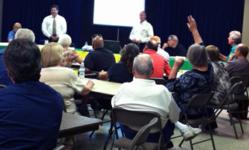 Several opened up in the past couple of days, and officials are concerned about the possibility of more in Hernando and Pasco counties, the state's top region for sinkholes.
Hernando County, FL (PRWEB) July 20, 2012
An increasing number of homes each month are being tested for sinkholes and foundation problems in Hernando County. Due to the start of summer's hurricane season, June 1st, and with the weather pattern moving from one of drought to one with increased rains, evidence of possible sinkhole activity in the area may increase. This is alarming for all residents; the effect on the value of area property in general and the impact which sinkholes have on resale home values is a genuine concern. "The Sinkhole Forum" will be hosting local meetings, for homeowner's, where they will have an opportunity to untangle some of their questions about insurance claims, testing, identifying and repairing sinkholes with area experts from engineering and general contracting firms specializing in sinkhole repair in Hernando County.
Residents in the Spring Hill neighborhoods of Regency Oaks, River Country, Berkley Manor, and Forest Oak, Lake in the Woods, Primrose and other area communities are invited to attend a meeting on Tuesday, July 24th at 6:00 pm to be held at the Regency Oaks Civic Association Clubhouse located at 4445 Breakwater Blvd, Spring Hill, FL 34607.
Featured panelists will be Brian W. Jory, P.E. of BJ Rock (BJR), a geotechnical engineering & consulting firm. BJR is known to direct their projects with a focus on feasibility, quality, ethics and just plain common sense engineering.
Tom Miller, P.E. & President of Structural Engineering and Inspections, Inc. (SEI), a leading area structural engineering firm will discuss the role of structural engineering in sinkhole investigations. Structural Engineering and Inspections, Inc. is known to provide a high level of service in the engineering field. Their managing partners have more than thirty years of engineering experience and pride themselves in providing "Real World" solutions that meet the requirements set forth in Florida codes and other regulatory bodies.
Rounding out the panel will be Tom Wilson, Representative for Certified Foundations, Inc. (CFI), a General Contractor specializing in Florida foundation stabilization and sinkhole repair for 23 years. CFI has successfully completed thousands of Central Florida's foundation stabilizations, and Bill Caulfield will discuss current customer concerns and share some of the newest 'on-the-job' solutions. Additionally, in response to the many requests for a guarantee on a repair's workmanship and materials, Certified Foundations, Inc. currently provides its customers with the only 10-Year transferable, insurance backed warranty available in the nation.
After the presentation, there will be an open forum where speakers will answer any specific questions from the group. All members of the Hernando County community are encouraged to attend.
About The Sinkhole Forum:
The Sinkhole Forum was developed to provide an opportunity to learn about and discuss the complexities of foundation stabilization and sinkhole repair within the areas affected most: Florida communities in Hernando, Hillsborough, Citrus, Pasco, Pinellas and Polk Counties. This common sense approach brings together various subject matter experts, with the homeowners who are looking for the right and reasonable answers for their remediation questions.
Certified Foundations, Inc. one of the largest and most respected foundation and soil stabilization companies in Florida has partnered with some of Florida's most recognized Geotechnical and Structural Engineering firms, to provide homeowners with the Sinkhole Forum experience. Call it important. Call it necessary. Call it the Sinkhole Forum.