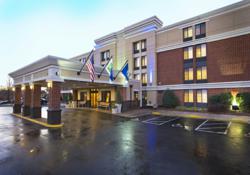 Originally built in 1985, the Holiday Inn Express Reston-Herndon is a part of the fabric of the Fairfax County community and has become an Elden Street landmark
Herndon, VA (PRWEB) December 05, 2011
The Holiday Inn Express Reston-Herndon in downtown Herndon, VA has just completed a two year, million dollar renovation, including a complete exterior renovation, a lobby and common area updgrade, and landscaping and parking lot beautification!
To publicly announce and celebrate the completion of this large project, this Herndon, VA hotel is hosting a ribbon-cutting ceremony and community reception on Monday, December 12 from 4 to 6 PM (EST).
The ribbon-cutting event is to celebrate the hotel's long-standing presence in the community as "Herndon's Hometown Hotel," and is open to invited community members. If interested in attending, simply call John Connors, the hotel's general manager, at 703-880-1712, or go to http://www.HerndonHometownHotel.com.
In addition to the complete make-over of the hotel's exterior, they have remodeled the lobby area and breakfast room, and upgraded all the hotel's 115 guest rooms with new furniture, artwork, wall vinyl, and 32" flat panel HD TVs.
"Originally built in 1985, the Holiday Inn Express Reston-Herndon is a part of the fabric of the Fairfax County community and has become an Elden Street landmark," says general manager, John Connors. "We have now completed a dramatic renovation of the hotel with an exterior beautification that is simply transformative, and we're extremely proud of it!"
The event on December 12th promises to be a who's who of Herndon, VA with visits from local town council and CVB members, including Herndon Mayor Stephen J. DeBenedittis.
With free breakfast each day, unparalleled high-speed internet, and the number one ranking on TripAdvisor, the Holiday Inn Express Herndon, VA hotel is ideal for northern Virginia business and leisure travelers, alike. Located walking distance to historic downtown Herndon, VA and minutes from the Reston Town Center, this hotel is perfect for visiting the rich culture of northern Virginia, and offers easy access to downtown Washington, DC.
About WashDCHotels.com
Based in Bethesda, MD, WashDCHotels.com is a DC destination and tourism site for the B. F. Saul Company Hospitality Group, a subset of a larger, private real estate firm, B. F. Saul Company. Within the Hospitality Group the company represents a collection of full service, select service, and extended stay hotels located in MD, VA, MI and FL. WashDChotels.com serves both business and leisure guests seeking first class DC hotel accommodations, Washington, D.C. area meeting facilities, and banquet venues. The company also operates two IACC Certified Northern Virginia Executive Conference & Training Centers. To learn more about the B. F. Saul Company Hospitality Group go to http://www.bfsaulhotels.com.
###