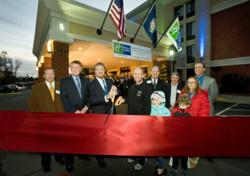 This hotel has been a fixture in this town for over 20 years, and as the mayor said in his remarks, 'this is Herndon's downtown hotel!'
Herndon, VA (PRWEB) December 21, 2011
Last Monday, December 12, the Holiday Inn Express Reston-Herndon in downtown Herndon, VA, hosted a community reception and ribbon-cutting event to officially announce the completion of its two-year, million dollar renovation.
The ribbon-cutting event was a huge success and drew the attendance of Herndon Mayor, Steve DeBenedittis, along with several other town council members and Fairfax County Supervisors, including: John Cook, Fairfax County Supervisor; Art Anselene, Herndon Town Manager; and Mark Ingrao, President of the Reston Chamber of Commerce.
"We're very proud of this hotel and its presence in the Herndon community," says Mark Carrier, president of the hotel's ownership and management company, B. F. Saul Company Hospitality Group. "This hotel has been a fixture in this town for over 20 years, and as the mayor said in his remarks, 'this is Herndon's downtown hotel!'"
The ribbon-cutting event included a terrific spread of food from local restaurants, including Jimmy's Old Town Tavern, Zephirelli's Ristorante, and O'Malley's Pub in Sterling, VA. In addition to the great appetizers, the Holiday Inn Express Reston-Herndon hotel provided several local Virginia beers and wines, including on-site vintners from Dry Mill Vineyards, a northern Virginia winery.
With free breakfast each day, including Holiday Inn Express' signature cinnamon buns, along with unparalleled high-speed internet, and outstanding service, it is easy to see why the Holiday Inn Express is the number one rated hotel on TripAdvisor. Located walking distance to historic downtown Herndon, VA and minutes from the Reston Town Center, this hotel is perfect for visiting the rich culture of northern Virginia, and offers easy access to downtown Washington, DC.
About WashDCHotels.com
Based in Bethesda, MD, WashDCHotels.com is a DC destination and tourism site for the B. F. Saul Company Hospitality Group, a subset of a larger, private real estate firm, B. F. Saul Company. Within the Hospitality Group the company represents a collection of full service, select service, and extended stay hotels located in MD, VA, MI and FL. WashDChotels.com serves both business and leisure guests seeking first class DC hotel accommodations, Washington, D.C. area meeting facilities, and banquet venues. The company also operates two IACC Certified Northern Virginia Executive Conference & Training Centers. To learn more about the B. F. Saul Company Hospitality Group go to http://www.bfsaulhotels.com.
# # #