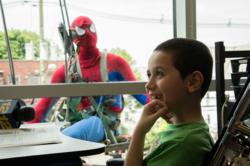 The look on the kids' faces when Batman and Spiderman descended down the building was priceless. But, the real super heroes are these children
New Brunswick, NJ (PRWEB) May 31, 2013
Batman and Spiderman reported to work at PSE&G Children's Specialized Hospital on Wednesday, May 29 in New Brunswick to wash windows and surprise the patients and families at the pediatric rehabilitation hospital.
"Our patients at the PSE&G Children's Specialized Hospital spend every day working really hard recovering from serious injury, or being born too early – all preparing to be home with their families. As we do that work, we want to make sure we provide opportunities to remind all of us that regardless of how sick, injured or fragile our patients are, they are still children and we need to find ways to create fun and smiles," said Amy B. Mansue, president and CEO, Children's Specialized Hospital. "Many thanks to Alpha Window Cleaning for bringing joy and laughter to our families; it is an essential part of the healing process."
Window washers from the Wanaque, NJ based company immediately agreed to dress like the famous caped crusader and wall-scaling Spidey. When hospital staff approached Alpha Window Cleaning owner Ronn Kidd with this idea; he was more than willing to help.
The super heroes then went inside to make their rounds on the units and greet patients for pictures. Fun is part of a patient's rehabilitation at PSE&G Children's Specialized Hospital. These children are recovering from brain injuries, spinal cord injuries, premature birth, developmental delays or life-changing illnesses.
"We have been cleaning the windows of PSE&G Children's Specialized Hospital for years now and we jumped at the chance to help these kids feel even a little better. We know these patients are going through a tough time," said Ronn Kidd, president, Alpha Window Cleaning. "The look on the kids' faces when Batman and Spiderman descended down the building was priceless. But, the real super heroes are these children and we can't wait to do it again next year."
Children's Specialized Hospital is the preeminent provider of rehabilitation services for children with special needs. The hospital serves children affected by brain injury, spinal cord injury, premature birth, autism, developmental delays, and life-changing illnesses. Children's Specialized Hospital has ten sites in New Jersey and treats 20,000 children each year, making it the largest pediatric rehabilitation system of its kind in the nation. Services include outpatient services, acute rehabilitation, and long-term care through its sites in Bayonne, Clifton, Egg Harbor Township, Mountainside, Toms River, Fanwood, Hamilton, New Brunswick and Roselle Park as well as outreach programs in many communities. Children's Specialized Hospital Children's Specialized Hospital is an affiliate member of the Robert Wood Johnson Health System and a proud member of the Children's Miracle Network Hospitals. Children's Specialized Hospital Foundation supports the programs and services of the hospital. The Foundation is ranked among the top six pediatric hospital foundations in the country. To help, or find more information: visit http://www.childrens-specialized.org; find us on Facebook - http://www.facebook.com/childrensspecialized, or follow us on Twitter @ChildrensSpecNJ.