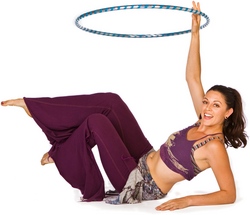 "I'm thrilled to take my 'Opening to your Grace' workshop across the country and to show how hooping is a fun, uplifting and healthy activity that anyone can do regardless of age, gender, or hip size," said Miss Rosie of Hero Hoops.
San Francisco, Calif. (PRWEB) October 13, 2010
Hero Hoops, a hula hoop dance fitness company based in San Francisco, announced its first Tour De Hoop™ scheduled in 21 cities across the United States. The seven-week tour, which runs from October 5 though November 19, is the first of its kind in the hooping industry both in scope and scale. Each stop on the tour will offer a three-hour, multi skill level workshop titled "Opening to your Grace" designed to heighten body awareness and allow for greater freedom and expression in movement and hooping.
Attendees of the multi-city workshops can expect one-on-one coaching from company founder and Chief Hooping Officer "Miss Rosie" Masters and will learn a variety of movement and hooping techniques. Miss Rosie will teach students how to improve their posture, move from their center and generate authentic and expressive movement from within the hoop. Students will also invent choreography, learn classic and urban dance techniques as well as beginning, intermediate or advanced hooping combinations. A portion of all proceeds from the 2010 Tour De Hoop™ will benefit non-profit organizations World Hoop Day and One Circle Now.
Miss Rosie launched Hero Hoops and has been performing as a professional hooper since 2007. With a background in ballet and professional fitness teaching, she quickly fused her passions for alternative exercise and movement and excelled in the art of hooping in less than a year. A well-known leader in her industry, Miss Rosie has taught thousands of hoopers around the world including other professional hoop instructors who teach internationally.
"I'm thrilled to take my 'Opening to your Grace' workshop across the country and to show how hooping is a fun, uplifting and healthy activity that anyone can do regardless of age, gender, or hip size," said Miss Rosie of Hero Hoops. "We all have inherent grace and it is our inner critic that squelches its flow. My method helps students cultivate a mindset and attitude allowing them to relax and move with confidence, ease, and of course, grace."
The complete 2010 Tour De Hoop™ schedule:
Tuesday, October 5th, 6:00 p.m. to 8:00 p.m. – 1041 F Street, Arcata, CA
Friday, October 8th, 6:00 p.m. to 9:00 p.m. - 155 NW Century Drive Bend, OR
Saturday, October 9th, 12:00 p.m. to 3:00 p.m. - 918 SW Yamhill St, 4th Floor, Portland, OR
Sunday, October 10th, 2:00 p.m. to 5:00 p.m. - 500 East Pike St, 2nd floor, Seattle, WA
Thursday, October 14th, 7:00 p.m. to 10:00 p.m. - 5959 North Discovery Way, Boise, ID
Friday, October 15th, 6:30 p.m. to 9:30 p.m. - 2191 South 300 West, Salt Lake City, UT
Sunday, October 17th, 2:30 p.m. to 5:30 p.m. - 4747 26th Street, Boulder, CO
Friday, October 22nd, 6:30 p.m. to 9:30 p.m. - 2820 N. Elston Ave, Chicago, IL
Sunday, October 24th, 11:00 a.m. to 2:00 p.m. - 3504 N. High St., Columbus, OH
Wednesday, October 27th, 6:00 p.m. to 9:00 p.m. – Location TBD, New York, NY
Sunday, October 31st, 1:00 p.m. to 4:00 p.m. - 8200 Hamilton Spring Court, Bethesda, MD (D.C.)
Monday, November 1st, 6:00 p.m. to 9:00 p.m. - 100 Brewer Lane, Suite B, Carrboro, NC
Wednesday, November 3rd, 7:00 p.m. to 10:00 p.m. - 825 Warner St. SW, Atlanta, GA
Friday, November 5th, 6:30 p.m. to 9:30 p.m. – 508 Pecore St., Houston, TX
Saturday, November 6th, 1:15 p.m. to 3:45 p.m. – 1700 S. Lamar Blvd. Suite 338, Austin, TX
Sunday, November 7th, 2:30 p.m. to 5:30 p.m. – 17062 Preston Rd. #108, Dallas, TX
Sunday, November 14th, 1:30 p.m. to 4:30 p.m. – 3850 Schiff Drive, Las Vegas, NV
Monday, November 15th, 6:00 p.m. to 9:00 p.m. – Location TBD, Los Angeles, CA
Tuesday, November 16th, 6:00 p.m. to 9:00 p.m. – Location TBD, Santa Barbara, CA
Thursday, November 18th, 6:00 p.m. to 9:00 p.m. – Location TBD, San Jose, CA
Friday, November 19th, 6:00 p.m. to 9:00 p.m. – Location TBD, San Francisco, CA
To register for a workshop or for more detailed information regarding Tour De Hoop™, Miss Rosie, or Hero Hoops, please visit http://www.herohoops.com
About Hero Hoops
Hero Hoops is a wellness company providing inspiring resources for people to find more joy and pleasure in themselves and create more passion in their lives through hoopdance! Founded in early 2007 by "Miss Rosie" Masters, this San Francisco company offers classes, workshops, and fire hoop performances internationally. Hero Hoops aims to improve lives through hoopdance – an uplifting activity that can be enjoyed by all and is centered around playing, laughing, working out, and building community! A portion of all proceeds from Hero Hoops benefits two non-profit organizations; World Hoop Day and One Circle Now. For more information, visit http://www.herohoops.com
###