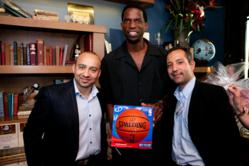 Bakr (left) & Damon of South Coast Medspa, paid $550 for a ball autographed by former Laker star A.C. Green. "We'll put it in our lobby for all our patients to see," said CEO Bakr, who also donated a $2,500 laser peel spa treatment for the auction.
Orange County, CA (PRWEB) September 28, 2011
On New Year's Day of 2011 Gabriel Nunez, 17, was crossing the street with his mother after renting a movie. Gabriel's mother looked back at her son after he shoved her in the back and watched as her son was hit by a car. At only 17 years old, Gabriel placed his mother's life before his own making sure that she was out of harm's way. The boy inspired his town, "Your action is an inspiration to us all," said Buena Park Police Chief Corey Sianez. "You are a true hero in our eyes."
After the accident the doctors placed Gabriel into a medically induced coma to help alleviate the swelling of his brain, which suffered severe damage. His brain actually swelled so significantly that the doctors had to remove a large portion of the boy's skull. Gabriel Nunez endured 9 brain surgeries because of the accident. Doctors stated that he had almost died several times during the ordeal.
On June 28th, nearly 7 months after Gabriel was hit by a car, the city commended him for his heroic actions during a ceremony at city hall. Citizens and council members ran over to shake his hand after the ceremony.
Gabriel's mother, Veronica Soliz is a grocery store sales clerk without healthcare for herself or her son and makes just enough money to get by. Living without a car and sharing a small one room apartment, paying for the medical bills was going to be incredibly difficult. To help with these medical costs family, friends and people from the community put a fund together, along with a fundraiser for Gabriel Nunez.
On August 25th the event to raise money for the Nunez's was held at Chapter One a popular hybrid bar-restaurant located in Santa Ana. This story was also featured on the OC Register's website. Over 125 people attended the event which had a huge silent auction of donated items and a surprise appearance from A.C. Green, a famous professional basketball player for the Los Angeles Lakers. Green took numerous pictures with Gabriel and his supports, plus signed autographs and donated some sports memorabilia to help raise more money for the Nunez's.
The doctors who operated on Gabriel during his 9 surgeries said that he was close to passing away multiple times. The fundraiser for Gabriel was not only successful because of his heroic act, but also because of his strong will to live. Many people have referred to him as the 'Miracle Boy' because of how close to death he was multiple times, but was able to pull through it.
The event accumulated over $26,000 for the Nunez family. Multiple people and groups made large contributions that lead to this, one organization, ExtendedFamily.org, donated $10,000. Another group who greatly contributed was South Coast MedSpa, who donated an expensive Laser Peel spa treatment, valued at $2,500, for the silent auction. Mark Bakr and Damon Scordo executive managers of South Coast MedSpa attended the event and bought a basketball autographed by former Laker basketball star A.C. Green for $550 dollars and added to the Gabriel Nunez fund. The basketball that South Coast MedSpa purchased will be placed in the lobby of their laser treatment center for all of their patients to see.
South Coast MedSpa's Scordo and Bakr immediately jumped up and became involved with the event for Gabriel because South Coast MedSpa has made a commitment to helping the youth. At their laser treatment center they help young people increase their self-esteem and confidence with the removal of embarrassing acne scars, unattractive body hair and unwanted tattoos.
Thousands of dollars were raised to help Gabriel and his mother because of the kind hearts of many local people in Orange County. But the real help came from the small business owners who decided to be selfless and donate services, time, and products for the benefit. For more information on making a donation to the Gabriel fund visit http://www.nunezfundraiser.com/
To make an appointment for laser skin rejuvenating,laser acne scar removal or laser skin resurfacing please visit South Coast MedSpa's website at http://www.southcoastmedspa.com and when you're waiting for to see the specialist you will see the auctioned ball in the lobby from the night of the fundraiser.
# # #