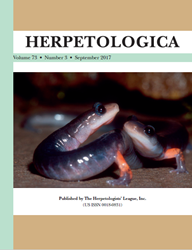 Many of the genes that code for pheromones are also found in the human genome
Lawrence, Kansas (PRWEB) September 06, 2017
Herpetologica — The study of evolution has advanced dramatically with the innovation of DNA coding and gene sequencing. Over the years, many different species have been carefully analyzed so researchers can connect changes in genes between species. One vertebrate in particular, the plethodontid salamander, has gene coding akin to the human genome, and studying its evolution has revealed both exciting answers and more questions about how genes evolve.
Researchers from the University of Washington, Oregon State University, and the University of Louisville recently published a study in the journal Herpetologica that encompasses more than 25 years of investigation into the courtship pheromones of plethodontid salamanders. Because these amphibians have been flourishing since the Mesozoic Era, and their abundance exceeds all other vertebrates combined when found in natural settings, researchers believe much can be learned by studying their evolution.
The researchers focused their studies on the male salamander and the genes that code for pheromones, the chemical messengers that guide mating behaviors. The experiments identified the molecular structures of these chemicals, as well as how the pheromones affect brain chemistry and sense of smell, and their overall effects on the behavior of female salamanders. The researchers discovered that three families of proteins found in pheromones produced by the mental gland have a tendency to evolve rapidly in response to changing female receptors.
Understanding, at least in part, the relationships between the salamander genes and their products, as well as the behaviors influenced by those products, is an exciting breakthrough. The researchers have also found links between the genes examined in their study and those found in humans. As one researcher states, "Fascinatingly, many of the genes that code for pheromones are also found in the human genome, and are involved in many diverse processes: digestion, controlling blood sugar, inflammation, immunity, tissue repair, and many others. Ultimately, this research has many implications beyond just pheromone signaling, and has allowed us to ask many fascinating questions such as 'How do vertebrate genes evolve new functions?'
Full text of the article, "Gene Duplication, Co-option, Structural Evolution, and Phenotypic Tango in the Courtship Pheromones of Plethodontid Salamanders," Herpetologica, Vol. 73, No. 3, 2017, is now available at http://www.hljournals.org/doi/full/10.1655/Herpetologica-D-16-00068.1.
About Herpetologica
Herpetologica is a quarterly journal of The Herpetologists' League, containing original research articles on the biology of amphibians and reptiles. The journal serves herpetologists, biologists, ecologists, conservationists, researchers, and others interested in furthering knowledge of the biology of amphibians and reptiles. To learn more about the society, please visit http://www.herpetologistsleague.org.