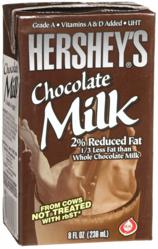 Milk is full of the nutrients all of us, especially our children, need to live and grow.
San Francisco, CA (PRWEB) August 23, 2012
Crying over spoiled milk is a thing of the past with Hershey's aseptic shelf-stable power milk Coupons for three packs of 8-ounce boxes of white, chocolate, and strawberry-flavored Hershey milk are available from printable grocery coupon site CommonKindness, which gives 20% of its revenues to a nonprofit group chosen by the coupon's user.
"Milk is full of the nutrients all of us, especially our children, need to live and grow," said Sarah Schloemer, president of CommonKindness. "We are thrilled to offer coupons for Hershey milk on our popular website."
Hershey shelf-stable milk is preservative-free and naturally produced with grade 'A' milk from cows not treated with rbST. Each 8-oz. beverage includes a straw, making the drink the perfect healthy choice for those on the go. Simply chill before serving.
"Families can stock up on Hershey shelf-stable milk without worrying about refrigerator space," said Christy Lama of Diversified Foods, marketer and distributor of Hershey Shelf Stable Milk. "It can be stored in your pantry for months before use, so you always have milk available—and the sealed packs are perfect for emergency preparedness kits."
Diversified Foods puts on an auction every year to help benefit Triumph Over Kids Cancer and also partners with Feeding America, bringing nutrition to those who need it most. Offering product coupons on CommonKindness is another way Diversified Foods is working to make the world a healthier, safer place to live, said Lama.
To find and use Hershey milk coupons, shoppers go to CommonKindness.com, quickly register, and designate their favorite nonprofit from the user-friendly directory. They then clip printable grocery coupons for items they typically use or want to try, and head to the store.
For each coupon redeemed, CommonKindness provides 20% of the distribution fee it receives to the shopper's designated nonprofit group.
To learn more, go to commonkindness.com or call (415) 887-9537.
About CommonKindness
CommonKindness is the new online grocery coupon site that operates on the principle of kindness and aims to benefit consumers, nonprofit organizations, and brands. CommonKindness is revolutionizing the online coupon industry by eliminating coupon loading and change costs, charging brands only for coupons redeemed, and giving 20% of its revenue to nonprofit organizations.