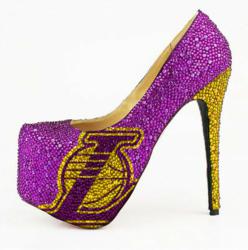 New York City, NY (PRWEB) October 18, 2012
Global leader in women's sports merchandising, HERSTAR™, is expanding their licensing partnerships worldwide and starting an affiliate program allowing fans to earn money and gain program benefits by sharing products with fans.
HERSTAR products are a unique combination of two of the most highly talked about subjects in the world: fashion and sports. HERSTAR produces the only sports dress footwear in the world, and are quickly expanding its licensing partnerships worldwide. With this fast growth, fans are invited to join their affiliate program as they begin selling officially licensed merchandise.
With more than 400 items available under the HERSTAR brand name, the affiliate program allows passionate fans instant access to their product inventory. By providing adequate sales support with an experienced affiliate manager, the team is dedicated to launching each member's success.
"We understand how much women love their shoes and recognize that going to an NBA game can be an event beyond the hardwood," says HERSTAR founder and CEO, Holly Joffrion. "We're able to combine the love of basketball and footwear together, allowing female fans another way to display their passion for the game. We are looking for people who believe in our brand to spread the word and take home a piece of the pie."
Becoming a part of the fast growing HERSTAR empire is simple. Interested candidates can complete the online registration anytime which is available on the HERSTAR website. Once their application is reviewed and approved, the team will assist the new member in getting set up. HERSTAR shoes and apparel is rapidly expanding its global business through licensing agreements for promotional and niche footwear, and continues to grow their University offerings and hopes to soon expand into other leagues.
About HERSTAR™
A unique global leader in women's sports merchandising, HERSTAR designs, develops and markets sports fashion footwear & apparel that appeals to women who seek a unique take on sports fashion. With more than 400 styles, HERSTAR meets the needs of female sports fans across every age and demographic. Online, HERSTAR'S extensive footwear collection is available at http://www.HERSTAR.com.