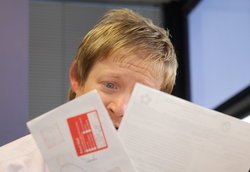 I wouldn't mind, but we sent it first class
(Vocus) November 5, 2008
Car insurance specialist HIC (Herts Insurance Consultants) had a shock recently when a cover note it had sent out was returned undelivered by the Royal Mail – eight years after it had been posted!
The original envelope was postmarked 1st November 2000 and was returned, marked 'address unknown', on 15th October 2008.
"I wouldn't mind, but we sent it first class," says HIC's Peter Cook. "As it happens this was just a 30-day temporary cover note," he adds. "Let's hope we don't get the customer's policy documents back in next week's post."
HIC specialises in classic and modified cars, particularly minis and VWs, and this document was for a classic VW Golf. "I wonder how old the cover note itself has to be before it can be classified as a classic?" Peter Cook asks, more out of curiosity than anything. "I'm sure it's collectible – maybe we better get it insured!"
Times have changed – though maybe not so much. Back in 2000 the HIC strapline was 'Economise without compromise'. "Given the current economic climate that's an angle we might want to start pushing again!" he adds wryly.
However - eight years on - the way insurance is arranged has also changed.
"The cover note isn't really needed any more," says Peter Cook. "I remember the days when brokers might have to issue five or six cover notes before the final annual certificate arrived from the insurance company.
"These days we can issue an annual certificate in the office the very same day that the insurance is taken out. So this cover note is a little piece of history."
HIC is the enthusiast's car insurer with a passion for motoring that translates into great deals on car insurance. For more information visit http://www.hertsinsurance.com or call 08451 290290.
Press Enquiries:
TONI TURNER OR ALISON HAYNES AT THE PUBLICITY WORKS: (01263) 761000; Email: HIC@publicityworks.biz
ANDY MORTON OF HIC: 08451 290290
###