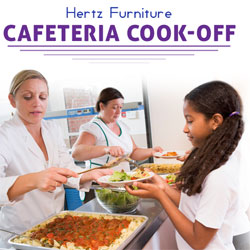 This contest shines a spotlight on [cafeteria staff], allowing students and teachers to give back to those special individuals who serve them all year.
Mahwah, NJ (PRWEB) April 10, 2013
Hertz Furniture, the premier school and office furniture supplier, has announced its latest competition: The Hertz Furniture Cafeteria Cook-Off Contest. Students, teachers, principals, and parents are invited to give thanks to a special cafeteria chef, manager, or employee by nominating them to win.
The contest runs for four weeks, from April 8 to May 5, 2013. To enter, contestants must fill out this contest entry form. Both the winning contestant and the person who nominated them will have the opportunity to handpick their Cafeteria Cook-Off Contest grand prize. Up for grabs are one of 34 premium OFM office chairs, representing the latest in contemporary office design. The chairs are ergonomic for superior comfort and upper and lower back support. Furthermore, several of the prize chairs are upholstered in a germ-resistant, easy to clean vinyl, making them ideal for any cafeteria environment, where tips and spills are run of the mill and where messes are par for the course. All OFM office chairs come with a limited lifetime warranty.
Providing nutritious meals to students – day in and day out, all year long – is no easy feat. Not only are cafeteria personnel responsible for the safe and sanitary upkeep of the school cafeteria environment, but most spend the majority of their shift on their feet, laboriously serving others. Yet many of these devoted school employees manage to forge friendly relationships with students and staff. While serving up the daily special on the menu, they also dish out service with a smile.
"We are excited to announce our Cafeteria Cook-Off Contest," says Hertz Furniture President Saul Wagner. "It's safe to say that cafeteria staff – from the cook to the people working the assembly line to the people who clean up and wash dishes – are some of the unsung heroes in the school environment. This contest shines a spotlight on them, allowing students and teachers to give back to those special individuals who serve them all year."
Hertz Furniture has long been partnering with schools to provide daycare furniture, classroom furniture, cafeteria furniture, mobile science labs, playground equipment, and more. Its wide selection of cafeteria tables are available in cutting-edge designs and shapes, such as the Mobile Round Bench Table Dyna-Rock Edge, the Mobile 16-Stool Stowaway Cafeteria Table, the Rectangular Counter-Height Cafeteria Table, the Six-Person Cafeteria Wall Booth, and more.
About Hertz Furniture:
For over 45 years Hertz Furniture has supplied schools, religious institutions, businesses and government offices with top quality commercial furniture and superior customer service. Speedy Quotes, Quick Ship products, a wide selection of Eco-Friendly furniture, a free Project Planning and Design service and the best warranties in the industry are just a few of the ways that Hertz Furniture provides added value to its customers. For additional information on Hertz Furniture and its extensive line of products, please visit Hertz Furniture, speak to a furniture specialist at 888-802-6549, or send an email to jonathanyunger(at)hertzfurniture(dot)com.