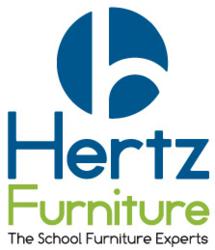 With funding from Hertz Furniture, the special education program at J.H. McGaugh will be able to continue its tradition of excellence...
Mahwah, NJ (PRWEB) February 28, 2013
Hertz Furniture, the premier school and office furniture supplier, has announced the first recipient of its 2012 Grant Program for CASBO members: a second-grade special education autism class on the J.H. McGaugh campus of the Los Alamitos Unified School District. The Grant Program, open to schools or districts in the State of California in good standing with the California Association of School Business Officials (CASBO), accepted proposal submissions between April and May 2012. Up for grabs were three $3,000 grants for premium Hertz Furniture, including classroom furniture, mobile lab workstations, cafeteria tables, and more.
.
All applicants were required to submit a proposal outlining how their school would utilize the new furniture, with three worthy recipients to be selected. The first Hertz Furniture CASBO grant will furnish an elementary special needs classroom run by the J.H. McGaugh School. The school, which hosts all of the elementary special education classes for both the local district and the larger Special Education Local Plan Area (SELPA), is already home to two award-winning regional autism classrooms – a kindergarten and first-grade. The grant money outfits the newest addition, a second-grade regional autism classroom.
"With funding from Hertz Furniture, the special education program at J.H. McGaugh will be able to continue its tradition of excellence in facilitating student learning for severely autistic children at the highest level and furnishing classrooms with the materials teachers need to be successful," says Clint Owen, Client Relationship Manager for Hertz Furniture Systems in the Southern California Los Alamitos region.
Some of the furniture items already being enjoyed by teachers and students include 10 Inspiration Classroom Chairs, four Hercules Activity Tables, and two Educational Edge Horseshoe Tables, enabling the creation of small-group instruction areas needed in an autism classroom. "Every piece of furniture has gone to great use," says McGaugh Elementary Principal Bill MacDonald. "These activity tables are like gold, so they're all being used every day."
"The value of the autism program was something that really spoke to us," says Saul Wagner, president of Hertz Furniture, "and we proud to award the first CASBO Grant 2012-13 to J.H. McGaugh Elementary. We understand the integral role that proper classroom furniture plays in educational success and in meeting special needs and challenges in the educational environment."
About Hertz Furniture:
For over 45 years Hertz Furniture has supplied schools, religious institutions, businesses and government offices with top quality commercial furniture and superior customer service. Speedy Quotes, Quick Ship products, a wide selection of Eco-Friendly furniture, a free Project Planning and Design service and the best warranties in the industry are just a few of the ways that Hertz Furniture provides added value to its customers. For additional information on Hertz Furniture and its extensive line of products, please visit Hertz Furniture, speak to a furniture specialist at 888-802-6549, or send an email to jonathanyunger(at)hertzfurniture(dot)com.