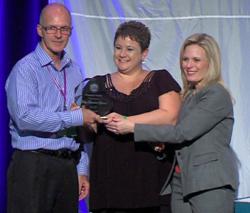 Hertz Furniture Systems and their representatives......truly understand the important role they play in the success of a school.
(PRWEB) December 17, 2012
Hertz Furniture, the premier school and office furniture supplier, was recently honored at an event hosted by the Florida Consortium of Public Charter Schools (FCPCS) – the state's leading charter school advocacy and support organization. On November 15, 2012, during the annual Florida Charter School Champions Awards, Hertz Furniture won the Charter Schools Champion Vendor Award.
The award ceremony – which includes categories such as charter school principal, teachers, community leader, vendor, pioneer, and more – celebrates and gives thanks to individuals who stand out in their work in and on behalf of charter schools and who are considered the charter school movement's most valuable contributors. Accepting the award on behalf of Hertz Furniture were National Projects Coordinator Jennifer Urogi and Regional Client Relationship Manager Alain Pino.
"Working with quality vendors is key to a charter school's success," explains FCPCS President, Robert Haag. "Hertz Furniture Systems and their representatives in Florida, including Alain Pino, truly understand the important role they play in the success of a school. This recognition is our way of thanking them and everyone who makes charter schools in Florida better."
Hertz Furniture has a long history of supporting educational programs and fostering student achievement by providing premium furniture at competitive rates for K-12 classrooms, school science labs, cafeterias, stages, and playgrounds. To accommodate all students, Hertz Furniture also offers wheelchair accessible tables, desks and computer workstations, while products bringing 21st technology into the classroom include digital interactive whiteboards, electronic multimedia pens, wireless tablets, and mobile power stands.
"We are honored and thrilled to accept this wonderful award from the FCPCS," says Hertz Furniture President Saul Wagner. "We are proud of our longstanding partnership with the charter school community and remain committed to providing student-centered furniture which enhances scholastic performance, which facilitates teaching and learning, and which creates safe school environments."
About Hertz Furniture:
For over 45 years Hertz Furniture has supplied schools, religious institutions, businesses and government offices with top quality commercial furniture and superior customer service. Speedy Quotes, Quick Ship products, a wide selection of Eco-Friendly furniture, a free Project Planning and Design service and the best warranties in the industry are just a few of the ways that Hertz Furniture provides added value to its customers. For additional information on Hertz Furniture and its extensive line of products, please visit Hertz Furniture, speak to a furniture specialist at 888-802-6549, or send an email to jonathanyunger(at)hertzfurniture(dot)com.