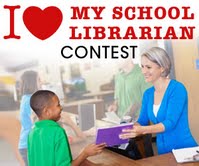 We were...inspired by the stories of the many dedicated and hard-working school librarians who were nominated.
Mahwah, N.J. (PRWEB) February 19, 2013
Hertz Furniture, the premier school and office furniture supplier, has announced the winner of its "I Love My School Librarian" contest. The competition, which ran for six weeks, invited students, teachers, principals and parents to recognize a special school librarian by nominating them to win. To enter, nominators had to complete an online form and write a short paragraph on "Why You Love Your School Librarian." Up for grabs was the prize of an OFM ergonomic Airflow Executive Office Chair from Hertz Furniture.
The winner of the "I Love My School Librarian" contest is Maria Tristan, a librarian at Dr. Palmira Mendiola Elementary School in Mission, TX. She was previously awarded the title "Teacher of the Year" two times – in 2005-2006 by the Salinas Elementary School, and again in 2008-2009 by the William J. Clinton Elementary School. Both schools are located in the La Joya Independent School District. According to Mrs. Tristan, her personal philosophy about reading is embodied in the following Dr. Seuss quote: "The more you read the more things you will know. The more that you learn the more places you'll go."
Her own words make it easy to understand why Maria Tristan was honored by her students for her dedication, personal attention, and hard work: "Every time that I get an opportunity to read to my students, I explain to them that reading is a portal to a diverse world with exciting and new things to experience…. My goal is to facilitate student achievement and education, beginning with student literacy." In addition to her daytime duties, Mrs. Tristan runs a monthly Library Literacy Night for students and teachers, as well as a weekly Book Club for students.
Her prize, an OFM Airflow Executive Office Chair, features adjustable lumbar support and a cool mesh backrest design for maximum sitting comfort. Hertz Furniture offers a complete line of premium ergonomic school furniture for classroom, library, cafeteria, lab and office.
"We are thrilled to announce the winner of the 'I Love My School Librarian' contest," says Hertz Furniture President Saul Wagner, "and proud to present it to such a worthy recipient. We recognize the critical role librarians play in inspiring and empowering young readers, and we were in turn inspired by the stories of the many dedicated and hard-working school librarians who were nominated."
Hertz Furniture also hosts the School Matters Blog, covering current educational topics such as bullying, school reform, and technology in the classroom. The site features recent video blogs such as "Bullying Prevention Methods," discussing peer mediation and other successful bullying prevention techniques, and "Communicating with Students After a Natural Disaster," which was created to help students feel safe in the aftermath of Hurricane Sandy.
About Hertz Furniture:
For over 45 years Hertz Furniture has supplied schools, religious institutions, businesses and government offices with top quality commercial furniture and superior customer service. Speedy Quotes, Quick Ship products, a wide selection of Eco-Friendly furniture, a free Project Planning and Design service, and the best warranties in the industry are just a few of the ways that Hertz Furniture provides added value to its customers. For additional information on Hertz Furniture and its extensive line of products, please visit Hertz Furniture, speak to a furniture specialist at 888-802-6549, or send an email to jonathanyunger(at)hertzfurniture(dot)com.