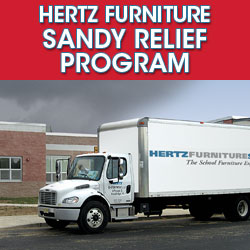 By extending the Sandy Relief Program, we hope to provide assistance to those still struggling...
Mahwah, NJ (PRWEB) December 18, 2012
Hertz Furniture is extending its Sandy Relief Program, established in late October after Hurricane Sandy caused widespread damage along the East Coast of the United States. Moved by the plight of those who suffered tremendous loss and disrepair during the storm, Hertz Furniture partnered with six leading furniture brands, offering 20% off the price of over 1,100 school and office furniture items to affected educational institutions and others in VT, RI, MA, CT, NY, NJ, PA, MD, DC, VA and WV.
Today Hertz Furniture announced that the discount offer will remain valid through December 24, 2012, including Fast Shipping on all furniture from Academia, AmTab, Eurotech, NPS, OSC, and ScreenFlex. Among the items available are desks, chairs, tables, partitions, podium, stages, and storage units. To access the discount schools can contact their local Hertz Furniture representative while all customers can call the Hertz Furniture Sandy Relief phone number at 888-494-3314.
"While many schools have reopened and returned to business as usual, others continue to live in the aftermath of Hurricane Sandy, either due to the extent of the damage or due to insufficient funds to cover the unexpected expenses," says Hertz Furniture President Saul Wagner. "By extending the Sandy Relief Program, we hope to provide assistance to those still struggling and help students and teachers who have been uprooted from their classrooms return to their regular school environments."
In addition, a video entitled "Communicating with Students after a Natural Disaster" has been posted on the Hertz Furniture School Matters Blog. The video examines the impact a natural disaster such as Hurricane Sandy may have on students and presents strategies for teachers and parents on how to communicate with students to help them feel safe in the aftermath of such a major disaster. The School Matters blog covers current educational topics such as bullying, school reform, technology in the classroom, and more.
About Hertz Furniture:
For over 45 years Hertz Furniture has supplied schools, religious institutions, businesses and government offices with top quality commercial furniture and superior customer service. Speedy Quotes, Quick Ship products, a wide selection of Eco-Friendly furniture, a free Project Planning and Design service and the best warranties in the industry are just a few of the ways that Hertz Furniture provides added value to its customers. For additional information on Hertz Furniture and its extensive line of products, please visit Hertz Furniture, speak to a furniture specialist at 888-802-6549, or send an email to jonathanyunger(at)hertzfurniture(dot)com.