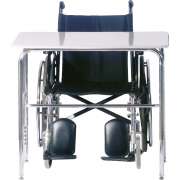 Our wheelchair accessible products ensure that all students receive the same high-quality education they deserve...
Mahwah, NJ (PRWEB) January 31, 2013
Hertz Furniture, the premier school and office furniture supplier, is making sure schools are equipped to accommodate all students and provide equal learning opportunities by offering over 50 wheelchair accessible and ADA-compliant products. Its vast selection of wheelchair accessible tables, desks, and computer work centers enable students with physical disabilities to study alongside their peers and work on an equal footing – in the classroom, the science lab, and even the cafeteria and playground.
Wider than regular classroom furniture, accommodating school desks and tables are designed with both students and classroom layouts in mind. Lesro folding wheelchair tables are height and angle-adjustable with a raised edge to prevent writing utensils and study materials from rolling off. Drafting tables by Mayline Stoway are wheelchair accessible, fold flat for easy storage and mobility, and are ideal for open artwork and other large projects. For the science lab, Diversified Woods height-adjustable science lab tables are built with chemical-resistant tops for safe experimentation.
Hertz Furniture also offers accessible computer workstations, available with wheels for convenient portability between classrooms or with glides for use in one place. ADA-compliance also extends beyond the classroom with wheelchair accessible picnic tables, allowing all students to enjoy recess and lunch together and to integrate individuals with physical disabilities into the school environment.
Designed using colors and styles which match regular classroom furniture, Hertz Furniture's ADA-compliant tables and desks allow schools to maintain a coordinated look; as a result, no students feel singled-out, different, or left behind. The accessible furnishings can also double as regular desks and work tables, making them a practical and cost-effective investment.
"Nowadays, schools and workplaces are required to provide educational and professional environments which accommodate individuals of all abilities," says Hertz Furniture president Saul Wagner. "Our wheelchair accessible products ensure that all students receive the same high-quality education they deserve and that they feel welcomed and accepted in their academic settings. At the same time, our growing line of products allows schools to be properly outfitted with everything they need to be ADA-compliant."
About Hertz Furniture:
For over 45 years Hertz Furniture has supplied schools, religious institutions, businesses and government offices with top quality commercial furniture and superior customer service. Speedy Quotes, Quick Ship products, a wide selection of Eco-Friendly furniture, a free Project Planning and Design service and the best warranties in the industry are just a few of the ways that Hertz Furniture provides added value to its customers. For additional information on Hertz Furniture and its extensive line of products, please visit Hertz Furniture, speak to a furniture specialist at 888-802-6549, or send an email to jonathanyunger(at)hertzfurniture(dot)com.