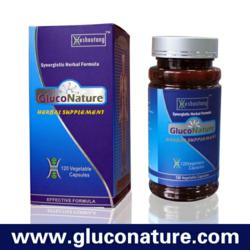 We have created office and warehouse in USA, so it is very great for American people to get GlucoNature and other products.
USA - China (PRWEB) February 06, 2012
A revolutionary natural supplement for diabetes was just released after years of research by HESHOUTANG TCM HEALTHCARE on the bases of traditional Chinese medicine brings new and real hope for diabetes.
Recently released research suggests that GlucoNature has the potential to alleviate and cure diabetes.
The herbal components in GlucoNature, according to the experts, may be the key in helping to increase substantially blood microcirculation in the body's extremities. And by increasing microcirculation with this naturally based formula, many complications associated with poor circulation in Diabetics could be reduced. The active herbal antioxidant effect in GlucoNature can also assist those people with evidence of complications associated with Diabetes and Cardiovascular Diseases.
Heshoutang TCM Health Care manufactures of Gluconature in a press conference in their China offices in Qingdao said, "we're proud to produce all herbs near Mount Tai." Mount Tai is known for its purity of air and lush soils that produce the finest herbs.
Dr Wang, CEO of Heshoutang told everyone, "This is not something new. We did not invent the wheel, and this method has been used successfully in TCM in China for thousands of years!"
Dr Wang believes that the treatment in today's clinical application by prescribing the same medicine for the only purpose of reducing blood sugar but ignoring the age, gender, etiology and symptoms among patients is wrong, and it will cause the disease to seem like its being treated, but some potential illness comes later, then people becomes weaker and finally an organ might fail. Only by paying attention to the difference of the patient's age, gender, and etiology can an expert diagnose and treat people based on an overall analysis of the illness and the patient's condition ( BianZhengShiZhi ), provide different formulas for different patients, provide different formulas at a different time, eliminate the source of disease, develop physical fitness, restore functions of viscera, and then finally treat diabetes.
Heshountang TCM Heath Care has created a warehouse facility in the USA to help Americans to get GlucoNature and other products faster and at a more affordable cost.
HESHOUTANG HEALTH CARE OFFERS
1. The TCM Hospital Online where customers/patients can submit their detailed diseases' condition, and receive diagnosis results and complete treatment plan. On this website, patients could find the best TCM doctors online.
Website: http://www.tcmtreat.com
2. The TCM Community for customers offers a place to submit their questions during the treatments; our assistants will give patients a timely reply.
Website: http://www.bbs.heshoutang.com
3. For customers who have severe conditions, TCM offers "Come to the TCM Hospital" and have the opportunity to consult face to face with doctors. Patients could find details in this link: Website:http://www.tcmtreat.com
###