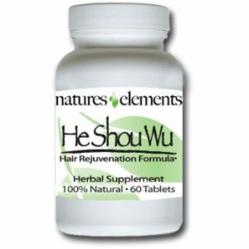 These pills started to work for me the very first time I took them, they are better than the other brands of he shou wu, it's true this brand here is more potent than any other he shou wu. - Gina
Lindenhurst, NY (PRWEB) August 22, 2012
The Chinese herb He Shou Wu (pronounced huh show woo) is commonly referred as Shou Wu, Fo-Ti, or Shou Wu Pian. This plant's roots are used in Traditional Chinese Medicine for its ability to reverse gray hair and stimulate hair growth. Chinese Medicine has long promoted the use of He Shou Wu as an anti-aging and longevity herb. Use of this herb, He Shou Wu, provides so many benefits to the body that is it thought of as a tonic worthy of taking for the rest of one's life.
The literal translation of He Shou Wu is "Black Haired Mr. He" which derived from an elderly Chinese man who not only restored his hair back to its original color, but regained his youth and vitality. Ever since Mr. He's story the use and popularity of this herb has continued to grow.
Traditional Chinese Medicine suggests that the He Shou Wu nourishes the liver and kidneys, which reflect the strength and color of ones hair. Shou Wu improves the blood flow to the scalp and nourishes the root of the hair follicles, providing natural hair color to be restored as well as creating thicker and stronger hair.
There are many companies out there offering He Shou Wu, but when considering which product to take there are several things to consider. First and foremost is the strength and quality of the herb. Powders and extracts of the herb are both out there but it is important to understand the difference in what they offer. An extract will provide a more concentrated and potent form allowing the user to achieve the greatest potential of the herb.
Nature's Elements offers a 12:1 extract of the herb, the highest known available. By offering this potent form of He Shou Wu the consumer is only required to take 2 tablets per day as compared to a typical powder, which would require 10-12 pills per day. Another aspect to be aware of is how much supply is actually provided in each bottle. Nature's Elements always offers a full one-month supply, but be sure to allow enough time for the Shou Wu to perform. It is said that the full effects of the tonic are achieved after 3-4 months of daily consumption.
For those who have discovered the benefits of other powerful vitamins and minerals out there for hair there is another option to experience the combination of Traditional Chinese Medicine along with other well-known herbs called Advanced Shou Wu. Nature's Elements developed Advanced Shou Wu and by doing so provided an entirely new product to the consumers. This new product offers a 1,000 mg of He Shou Wu along with 10 additional vitamins and minerals all designed to benefit hair color and hair growth! Find out more about Advanced Shou Wu and what customers have to say about the remarkable effects at http://natureselements.net/HE-SHOU-WU.html.