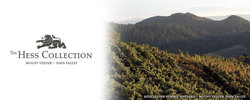 Even in these tough times, we're not cutting back on the resources needed to keep this 'quality enhancement initiative' going
Napa, Calif. (Vocus) April 30, 2009
With budbreak on Mount Veeder, The Hess Collection Winery is beginning to reap the rewards of a $30 million, 10-year 'quality enhancement initiative' to upgrade its Napa Valley estate vineyards and wineries.
"Even in these tough times, we're not cutting back on the resources needed to keep this 'quality enhancement initiative' going," says Tom Selfridge, President of The Hess Collection. With this vintage, a small number of new—primarily white—varietals will start to come into production—a number which will increase in coming vintages.
Founder Donald Hess was attracted to Mount Veeder for its elevation and unique mountain climate, which he believed would yield the best grapes to produce great wines. After more than 30 years, Donald Hess remains committed to this vision.
$20 million is focused exclusively on vineyard redevelopment, including replanting 100 acres of vines out of the existing 300 acres on Mount Veeder—some of which were planted more than 30 years ago. The use of soil resistivity mapping allows us to track specific soil types and match specific vineyard blocks to new rootstocks, clones, trellises and irrigation. Fruit from the redeveloped acres, which is some of our best ground, should add increased flavor and richness.
Though http://www.hesscollection.com The Hess Collection has always been known for its estate Cabernet Sauvignon, decades of experience combined with many years of vineyard heat-unit accumulation records have led to the discovery that other varietals also can thrive in the cool mountain climate. Perhaps most notable, has been the consistent success of Malbec, which we've added in increasing quantities to our Cabernet Sauvignon in recent vintages with positive results.
Reconfirming a commitment to sustainable farming practices, Hess has also found ways to decrease its ecological footprint on the mountain. In 2008, Hess brought 24 goats to its Mount Veeder estate—now more than 90—who are released into vineyards prior to budbreak to forage between the vines, clearing the area to ensure there won't be a proliferation of weeds in the coming months and virtually eliminating the need to use herbicides or till the soil. For the balance of the year, they forage in the 600 acres of forest that surround the vineyards. In these areas they replace fire, which for millennia has kept the forest floor clear of brush.
An additional $10 million is being spent to revitalize Hess' production facilities with the latest winemaking technology—all of it to maximize quality rather than increase production. At the Mt. Veeder winery, 25 new tanks were installed prior to the 2008 harvest. The tanks are ideally suited to small, 5-10 ton fermentations, which allow for individual vineyard blocks or select picks to be kept separate. Each tank has its own devoted pump, which is programmable and allows the freedom of customized pump-over regimes, with the goal to increase color and decrease harsh tannins in the wines.
About The Hess Collection:
The Hess Collection on Mount Veeder produces distinctive estate-grown Napa Valley Cabernet Sauvignon wines acclaimed for their complexity, structure and elegance. The mountain winery is a leader in sustainable and organic practices across its 310 vineyard acres on Mount Veeder and single vineyard designates in the Napa Valley. The historic winery has earned international recognition for its wine, culinary and visitor programs and provides free public access to Donald Hess' extensive private contemporary art museum. Hess Family Estates include The Hess Collection (California), Artezin (California), Sequana (California), Peter Lehmann Wines (Australia), Glen Carlou (South Africa) and Colomé (Argentina). http://www.hesscollection.com
###