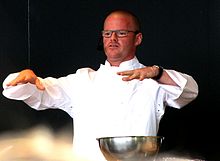 Australian's have become well acquainted with Heston Blumenthal through his appearances on local television shows, like Masterchef
Margaret River, Western Australia (PRWEB) August 15, 2012
The Margaret River region of Western Australia has established an enviable reputation for its fine wines and gourmet eateries. The just-announced Margaret River Gourmet Escape has been designed to take this fame to a whole new level, and is expected to attract food and wine lovers from around the world.
Simon Ambrose, from the Augusta Margaret River Tourism Association (AMRTA), has welcomed the announcement, saying that having chefs of Mr Blumenthal's calibre associated with the region will help to reinforce is reputation as a must-visit destination for both fine diners and nature lovers.
"Australian's have become well acquainted with Heston Blumenthal through his appearances on local television shows, like Masterchef" said Mr Ambrose. "But many don't realise just how famous he really is."
"His restaurant, the Fat Duck, in Berkshire, has been named the Best Restaurant in the UK (and 10/10 score) by the Good Food Guide every year from 2008 to 2012" he continued. "In 2005 it was named 'Best Restaurant in the World' - and he is coming to cook in Margaret River!"
Adding to the event's prestige, Chef Rene Redzepi from Denmark, whose restaurant 'Noma' has been three-times rated 'Best Restaurant in the World' has also confirmed that he will attend the event.
The event organiser, Brand Events Australia, has revealed that there will be a regional food and wine trade program leading up to the Gourmet Escape, and a fully hosted familiarisation program for visiting journalists and critics.
The Margaret River Visitor Centre, too, will be gearing up for an influx of enquiries about travel and accommodation, and will ensure that visitors will be aware of the varied attractions that the region has to offer - from the nearby breathtaking caves, forests, beaches, horse-riding trails and boating.
The Margaret River Gourmet Escape is being held from 22-25 November 2012, and the AMRTA recommends that those planning to attend book their accommodation early, with details at MargaretRiver.com
About AMRTA and the Margaret River Visitor Centre
The Augusta Margaret River Tourism Association (AMRTA) is a self-funded, not for profit, membership-based organisation that represents more than 500 local tourism businesses. The Association is an innovative and cohesive organisation with high values fostering excellence in sustainable tourism, visitor servicing and destination promotion. A nine-member Committee of Management elected by the membership oversees operations.
The Association provides information to visitors and bookings for accommodation, tours and attractions. It works closely with its members to provide visitors with a wide variety of activities.
Visitor Centres
We manage both the Margaret River Visitor Centre and the Augusta Visitor Centre, offering a wide variety of services and activities. Our centres welcome over 285,000 visitors per year. Some 300 telephone inquiries are handled by our expert staff each day. Both visitor centres are accredited with the Tourism Council of Western Australia.
For more information visit MargaretRiver.com