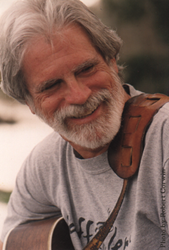 'He is one of the strongest guitar players in contemporary folk.' - Sing Out!
Worcester, MA (PRWEB) August 27, 2014
Hezekiah Stone's Coffeehouse Announces a New Season
Thursday September 4th 2014 featuring JACK WILLIAMS
7:30 pm $15
http://www.jackwilliamsmusic.com/
The music of Jack Williams, rooted in his native South Carolina, was shaped by a 54-year career of playing folk, rock, jazz, R&B, classical and the popular music of the 30s, 40s and 50s. He is counted among the most dynamic performers on today's "folk" circuit - "...one of the most enlightened and entertaining performers I've ever encountered," said Dave Humphreys of Two-Way Street Coffeehouse in Downer's Grove, IL. Jack is considered a "musician's musician," an uncommonly unique guitarist, a writer of vivid songs with a strong sense of place, and a storyteller in an old Southern tradition who further illustrates each tale with his guitar. Rich Warren of WFMT Chicago's The Midnight Special said, "His artistry is nothing short of amazing." Vic Heyman, in SING OUT!, wrote, "He is one of the strongest guitar players in contemporary folk."
Avoiding the compromises of the commercial music industry during his 50+-year professional career, Jack prefers touring under the radar, playing concerts, large and small, week in and week out, from the sheer love of music and performing. Playing for more than 50 house concerts each year, Jack enjoys the intimacy of that venue most of all, with a more personal connection to his listeners. Jack is a sought-after artist on all contemporary acoustic music stages, from coffeehouses and festivals to music halls and city arts stages. From acclaimed appearances at the Newport, Boston, Philadelphia, Kerrville, New Bedford SummerFest Folk Festivals, his musicianship, songs, stories and commanding presence have established him as an uncommonly inspiring and influential performer.
Hezekiah Stone's Coffeehouse is hosted by Christ Episcopal Church 1089 Stafford St. Rochdale MA 01542 on the first Thursday of the month September through June. Doors open at 7:00 pm shows run 7:30 pm – 9:00pm and are followed by a reception with the artist. Admission is $15. Always all ages and handicapped accessible.
The intimate concerts are held in the classic sanctuary of this 19th century New England landmark. More information and directions at http://www.hezstone.com.
The full season schedule for 2014 -2015 is:
September 4th 2014 – Jack Willams
October 2nd 2014 – Ryan Montbleau
November 6th 2014 – Kate McLeod
December 5th 2014 – Lydia & Phil
January 8th 2015 – Claudia Schmidt
February 5th 2015 – Brooks Williams
March 5th 2015 – Sarah Bauhan
April 2nd 2015 – The Edna Project (Liz Queler and Seth Farber)
May 7th 2015 – Paul Della Valle and Friends
June 4th 2015 – Slo-Grass
Contacts for Hezekiah Stone's Coffeehouse are:
Timothy Mason 617 480-0388 and Peter Swanson 508 410-2102
For more information, images, or to arrange for an interview, please contact Melissa Zeigler at Powderfinger Promotions: melissa(at)powderfingerpromo(dot)com.
Powderfinger Promotions–Independent Radio Promotion and Publicity. Since being founded in October 1994, Powderfinger has come to be regarded as a top indie radio promotion and publicity firm with ties across North America.