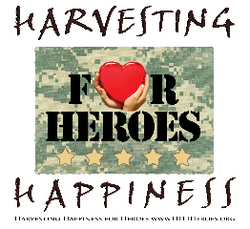 Sometimes it's easier to heal from a visible change in ourselves or loved ones, but it's the invisible challenges of a combat situation, that have a lifetime of recovery with an unspoken social expiration date.
Gainesville, VA (PRWEB) March 7, 2011
Sgt. Andy Brandi, renowned Vietnam Marine combat veteran, author of A Warrior's Guide to Insanity, public speaker, and 35 year survivor expert on Combat Stress, recently announced his decision to join the Advisory Board of Directors for the Harvesting Happiness for Heroes Organization]a pending 501(c)(3), led by respected international documentary filmmaker, philanthropist, motivational speaker, and happiness expert Lisa Cypers Kamen.
Highly regarded and trusted by ground troops in the field and the Military's elite, as a resource on issues affecting combat veterans, Brandi's support of Kamen's upcoming Harvesting Happiness for Heroes Campaign lends further credibility to the Campaign's mission; healing the deep wounds and scars carried by returning combat soldiers, transforming the combat experience into stigma-free personal growth and effective daily life reintegration. As a rising player among industry insiders, Kamen has quickly earned a reputation as a powerful force on the front lines of the battle for specialized Post Traumatic Stress Disorder (PTSD),Traumatic Brain Injury (TBI), and post deployment reintegration programs. Brandi, whose book was "recently approved by The Department of Veteran Affairs for distribution to all Vet Centers around the country as a "clinical tool", announced his decision to unite with Kamen after his Jan. 19th interview on her radio show Harvesting Happiness which airs live Wed at 9 am PST and 12 pm est. Brandi's interview revealed a candid synopsis of dealing with combat stress related issues, and the undeniable need for a personal re-discovery of happiness within post combat troops.
As a member of the Advisory Board of Directors, Brandi will work with Kamen to focus on repairing veteran soldiers ability to trust loved ones, discuss experiences, find effective methods to measure healing, reintroduce incremental steps for self-taught happiness and teach methods for allowing contentment to grow in the face of personal, mental and physical combat wounds. Although the term Wounded Warrior is often used to describe a physical affirmation of the trauma and brutality of war for combat veterans, the Harvesting Happiness for Heroes campaign is broadening that definition, to focus on the emotional and mental scars of the returning soldier. Kamen's organization aims to bring further awareness to those unattended invisible wounds of combat life that can surface as chronic physical pain, insomnia, depression, domestic violence and/or substance abuse, confirming the collateral damage of post deployment stress. "Sometimes it's easier to heal from a visible change in ourselves or loved ones, but it's the invisible challenges of a combat situation, that have a lifetime of recovery with an unspoken social expiration date. With the right set of keys, the darkness of a post combat soldier's world can be lifted, unlocking newfound moments of joy in life," States Kamen.
Kamen's official introduction into the world of philanthropy came with the release of a 10 minute documentary reflecting her journey through India, titled A Passage Through India-Diamonds in the Rough, which helped to fund the Sulaxmi School for Girls in Lucknow, India. Kamen's latest documentary film, H-Factor. . . Where is your Heart?, was co-produced with her now thirteen year old daughter. While researching her graduate thesis in psychology, Kamen cycled through Rajasthan, India in 110 degree heat, and witnessed an undeniable spirit of joy among the country's impoverished citizens, inspiring her work as a filmmaker. Kamen's film work, speaking reputation, personalized coaching and university teaching, has led to wide-spread recognition in her field, garnering interest in her happiness workshops from audiences across the nation. The support of Sgt. Brandi in expanding Kamen's work to Military veterans and their families is a clear sign that Harvesting Happiness for Heroes, is offering soldiers coping with combat stress, the support needed to win their internal war. "I am delighted to have the support of such an honored figure as Sgt. Brandi for this Campaign. He is living proof of renewed life for those soldiers fighting the after-effects of war," states Kamen of Brandi's involvement. Brandi joins five other Advisory Board members as they prepare for the official Harvesting Happiness for Heroes campaign kick-off of in April.
About Lisa Cypers Kamen:
Harvesting Happiness is a national radio show hosted by author, filmmaker and spiritual psychologist, Lisa Cypers Kamen. Kamen's show, produced by on-line talk radio network Toginet.com, will make her guests' stories, personal research discoveries, and workshop content available on a weekly basis to a national listening audience, and hopes to raise awareness for the important role that happiness plays in a long and healthy life. As a filmmaker, Lisa explores how people in varied circumstances find, generate and share happiness. Lisa also travels the globe presenting her film as a teaching tool in Harvesting Happiness workshops and seminar series within public and private sectors including New York City Parks and Recreation, Equinox Fitness and Motherhood Incorporated. In addition to her film on happiness, Lisa has also published a number of articles, is currently working on a book on the subject which will be released in 2011. Lisa resides in Los Angeles, California with her family where she is an avid philanthropist, with an expanding demand for her happiness workshops nationwide. Kamen is currently seeking ongoing corporate sponsorship of her campaign, to better and consistently serve the military community and the public at large. Please visit http://www.HH4Heroes.org for more information.
About Sgt. Andy Brandi:
Sgt. Andy Brandi is a Marine Corp Vietnam Veteran of Chu Lai and Hotel Company, 2nd Battalion, 7th Marines, where he learned and continues to live by the value of the Warrior's Code in all facets of his life. An unknowing survivor of severe Combat Trauma, Sgt. Brandi retired from service in 1969, and was later diagnosed with PTSD, otherwise known as Combat Fatigue (seeing or participating in too much war). Sgt. Brandi was recently recognized as an approved resource by The Department of Veteran Affairs for his book, A Warrior's Guide To Insanity, which was distributed to all Vet Centers around the country as a "clinical tool", a communication bridge between the Combat Veteran and the clinician. He has traveled internationally to visit with soldiers in the field and returning combat troops, where he has offered public insight and management methods for PTSD sufferers. Recently he announced his involvement with Lisa Cypers Kamen's Campaign Harvesting Happiness for Heroes. When asked to describe the purpose of his mission over the years, Brandi famously states, "For my Brother and Sister Warriors, Their Families and Their Loved Ones. SEMPER FI!"
For more information please contact publicist Carrie Hill at contact(at)carriehillpr(dot)com