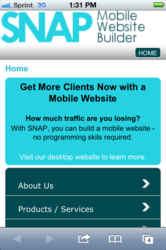 Nashville, TN (PRWEB) September 12, 2012
Hi5 Creative releases Nashville's first do-it-yourself mobile website builder called SNAP Mobile Website Builder (SNAP) to offer businesses a solution to affordably capitalize on trending consumer behavior.
One-half of all local searches are performed from a mobile device, according to SearchEngineWatch.com. Websites that are not optimized for mobile viewing on cell phones or tablets make it difficult for users to find information quickly which can lead to frustration and a speedy exit from the website.
SNAP meets this need for businesses as a unique online software that allows a user to create a customized mobile website in minutes. This revolutionary platform is available from anywhere with Internet access, and in five simple steps, the user will have an attractive, navigable and useful mobile website.
"You could build a clunky mobile site on one of the free builders out there, you could pay upwards of $10,000 to have one custom built, or you could use SNAP and build your own mobile site without knowing any code, breaking the bank or sacrificing the integrity of your brand," stated Kevin Barnett CEO, Hi5 Creative.
SNAP offers users advanced plug-ins such as a QR code generator, business directory, mobile social coupons, personnel directory and event calendars to enhance the mobile website. No coding knowledge is required to utilize SNAP's plug-ins. Pricing for a SNAP DIY mobile web site starts at $30 per month. Each pricing tier offers a variety of plug-in applications and bandwidth options to meet the needs of each business size whether small, medium or large.
To learn more visit http://www.SnapMobileWebDesign.com
About Hi5 Creative:
Hi5 Creative is a full-service engagement strategies firm specializing in new media integration and mobile marketing. Utilizing a thoughtful mix of public relations, marketing and mobile tools, Hi5 Creative gives consumer-focused brands the upper hand. Collectively, the Hi5 team brings each client extensive know-how in persuasive communications, sales strategy, journalism, event promotions and branding.
They are located at 3055 Lebanon Rd #2101 Nashville, TN 37214. Content them via email at Hi5Creative.Co or by phone at 888-628-9691. Visit their website at http://www.Hi5Creative.Co.