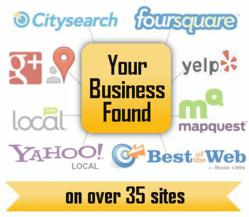 "As a consumer I get frustrated with outdated and inaccurate information on review sites" -Sierra McMillan
Nashville, Tn (PRWEB) August 08, 2012
Studies show that 66 percent of Americans use websites like Yelp, Yahoo! Local and City Search to find local businesses. Hi5 Publicity has launched a new premium business listing service that allows a business owner to take full advantage of customers using these sites by accurately listing their company on at least 35 listing web sites, while tracking and monitoring their local search performance.
A business owner will typically take the time to set up an account and create a listing on several of the major business directory or business review sites like Angie's List, MapQuest and Google+ Local (formally Google Places). However, more commonly business owners forget account login details, passively monitor their listings or never make the time to update their listings when their business information changes like their address or telephone number.
Hi5 Publicity's Get Listed service is a creative and inexpensive solution to this problem and actually boosts a business' online visibility and search engine results.
Hi5's team has developed a system to ensure that each business that signs up for this service is listed on the major business review sites and business listing websites, and more importantly, that the information listed about the business is always correct and reflective of the brand. From product images and videos, to contact information and special offers, the Get Listed service makes any business stand out above its competition and more readily found during local online search.
"I'm an avid Yelp-er," said Sierra McMillan CMO of Hi5 Publicity. "As a consumer I get frustrated with outdated and inaccurate information on sites like this. We created Get Listed so that consumers need not get frustrated and so that businesses can actually use these sites to grow their customer base and not shrink it."
Consumers want simplicity. If finding the accurate information for any business is difficult, it is easy to assume that the business is throwing possible revenue away to a problem that can easily be solved with help from Hi5.
With this service, Hi5 will continuously monitor the local business listing, optimize local search performance, calculate the number of clicks on business listings and deliver a monthly report via e-mail that includes good and bad online customer reviews.
Over 50 percent of purchases are preceded by an internet search so maintaining a strong presence on business listing sites is valuable to any company. It can be time consuming and confusing that's why Hi5 Publicity is offering a service so that every business can see the benefits without breaking the bank. Learn more at http://www.hi5publicity.com/services/get-listed/.
###