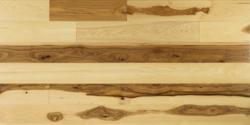 Wide plank Hickory hardwood flooring continues to grow in popularity
Greensboro, NC (PRWEB) September 18, 2012
Hardwoods4less announces wide plank Hickory hardwood flooring as the latest offering in its lineup of high-quality hardwoods. At 6" X 3/4", the addition of wide plank flooring provides consumers access to a measurement that's difficult to obtain.
"We're pleased to offer this increasingly popular flooring size to our customers," says Clayton Peebles, owner of Hardwoods4less. "It can be hard to get their hands on a cut like this, and at such a great rate, due to the size of lumber it takes to create them and the high demand for narrower lengths. But we've worked hard to get these wide planks in stock. They're here and ready to ship."
Wide plank hardwood flooring is gaining in popularity among consumers. Because of its relative uncommon presence in newer homes, it makes a stunning style statement, great for both rustic and contemporary design. Wide plank floors have fewer joint lines, unlike the busier appearance narrower planks can create, making them an excellent option for open floor plans. Wide planks are also highly sought-after for restoration projects of older homes, especially those with a country aesthetic.
Hickory hardwood flooring, specifically, is a compelling option due to its strength and durability. It sits on the Janka hardness scale with a score of 1850, making it a stellar option for families of children and pets. The Hardwoods4less 8-step pre-finishing process adds to the species' effectiveness, increasing its resistance to scratches, dents and dings.
Hickory also comes in a range of colors and tones, from a light beige to a reddish or dark brown, and complements any decor.
To enjoy the beauty of these woods, they must be properly cared for.To limit the amount of shrinking and splitting of wide planks once installed, a concrete drying is a must.
Peebles says, "Our wide planks are expertly dried at the mill. When it comes to wide plank flooring, we know that proper kiln drying is necessary to ensure an excellent product."
As with all flooring types, wide planks must also be properly acclimated to their environment. Failing to do so can result in damage to your newly acquired hardwoods.
Hardwoods4less adds wide plank Hickory hardwood flooring to its inventory high-quality hardwoods. The increasingly popular flooring option provides homeowners access to flooring size that's difficult to come by.
For homeowners and businesses interested in more information about wide plank Hickory hardwood flooring, visit http://www.hardwoods4less.com.