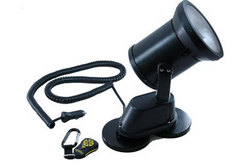 At the moment, the RCL360-HID-RF-M is the most powerful remote controlled spotlight available for low voltage vehicle and boat applications
Kemp, TX (Vocus) February 24, 2010
Larson Electronics' magnalight.com announced that is now produces the RCL360-HID-RF-M wireless remote controlled spotlight with magnetic base with a 50 watt High Intensity Discharge (HID) ballast and bulb combination. This HID spotlight produces 4500 lumens and creates a bright, white beam that reaches 4,100 feet. Configured with a flood lens, the RCL360-HID-RF-M remote controlled spotlight can cover an area 425 feet wide and 425 feet long. Equipped with 400 pound grip magnetic base, a 16 foot coil cord with cigarette plug and wireless handheld remote control, this remote control spotlight is applicable to the utility, marine and military markets.
"At the moment, the RCL360-HID-RF-M is the most powerful remote controlled spotlight available for low voltage vehicle and boat applications," said Rob Bresnahan with Larson Electronics' magnalight.com. "This spotlight draws approximately 4 amps on 12 volts and 2 amps on 24 volts, making it extremely efficient. For operators working with 300 watt and 400 watt incandescent lighting on utility vehicles, military vehicles and boats, this light provides a brighter, whiter beam at only a tenth of the current draw. Equipped with a strong magnetic base and detachable cord that can be configured with a cigarette plug, battery ring terminals, alligator clips or even NATO connector, this remote controlled spotlight can meet the needs of most any low voltage application. The RCL360HID is also available in permanent mount with a wired dash joystick controller for applications where radio communications could interfere with IED jammers, radar configurations or certain types of two way radios."
"We have been upgrading the Golight Stryker with a 35 watt HID bulb and ballast packages for more than a year," continued Rob. "Now we are doing the same with the K&H Nightray spotlights. However, the Nightray spotlight is built for more industrial applications, like mining and oilfield applications. As such, it uses larger components and offers more room in the chassis. We are able to fit the larger ballast and starter into the housing and the main controller board has a higher amp rating which allows us to go with 50 or 70 watts. We also had to replace the lens and reflector to accommodate the heat produced by a 50 watt HID package and bring proper focus to the bulb. Finally, we have to make some adjustments to the receiver and other electrical components in the light to adjust for the interference put off by the ballast. Generally speaking, this is pretty major upgrade to the fixture, and the modifications add a few pounds to the light. However, the way this light is geared, it is designed to move much greater weights anyways. So, in the end, we actually do more modifications to the HID NIghtrays than we do to the HID Golights. The industrial design, US manufacturing and high quality components, creates a higher price point for the RCL360-HID series than the 3200 lumen HID Golight upgrades, like the GL-3049H-M or GL-3021H. Operators need to balance the application requirements with the cost. In both cases, operators will get more light, have longer lamp life and draw less current than comparable incandescent spotlights. There are significant differences in foot print, form factor and design that operators need to consider in choosing an HID Nightray or a HID Golight. We have all the specifications, dimensional drawings and manuals on magnalight.com to help operators to make that decision."
"The most important aspect to these modifications is our experience and choice of components. In nearly 18 months of upgrading the HID Golights, we have never had a single bulb or ballast failure. The 50 watt components that we choose for the K&H Nightray upgrades are the same ilk, and we have been using these components in our 50 watt HID-6600 work lights for 3 years. So the components are solid and after working through our Golight HID upgrades for the last 8 months, we understand how to configure the spotlights for saltwater, extreme vibration and extreme temperatures. There are some very discrete details involved in upgrading these lights, that the Golight upgrades have revealed. In some cases, the design of the Nightray itself eliminates certain issues, like the ability to mount the light upside down. We even have this RCL360-HID-RF-M model mounted on helicopters without issue. It makes an ideal temporary lighting solution and the slip drive motors protect the light when the wind buffets it around. Once again, the low amp draw and beam output comparable to the 600 watt incandescent light replaced, were the compelling factors. "
Larson Electronics' magnalight.com offers a wide array of spotlights, flood lights and work lights for marine, industrial and military applications. Ranging from explosion proof lighting to high powered remote controlled spotlights, Larson Electronics offers a wide array of lighting solutions for low voltage and high voltage applications. You can learn more about the RCL36-HID-RF-M 50 watt HID spotlight with wireless remote control at magnalight.com or contact 1-800-369-6671 (1-214-616-6180 international).
###