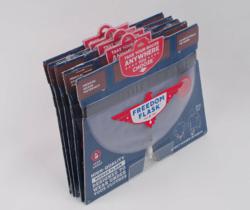 (PRWEB) June 18, 2013
The creators of the hidden alcohol flask have just rolled out a new wholesale ordering process for those interested in getting their hands on the original Freedom Flask.
The Freedom Flask team has put together this quick five step instruction sheet for anyone interested in placing a wholesale order:
1. Send an e-mail to Wholesale(at)FreedomFlask(dot)com to request a username and password.
2. After receiving login credentials, go to FreedomFlask.com and click on "Log In" at the top right of the page.
3. Once logged in, click on the "Store" link in the main menu and then choose "Wholesale" from the dropdown menu.
4. Select the products you wish to purchase, adjust quantities accordingly, and proceed through checkout process.
5. Receive order and wow customers.
Freedom Flask's hidden alcohol pouches are a great souvenir or gift for visitors of any kind of event: concerts, festivals, online competitions, etc. The company's efforts have now shifted towards becoming partner-friendly with any vendor interested in establishing a long-term partnership.
"We're excited to offer custom labeling for our wholesale clients that want to use our patented design as another outlet for their brand," Guy Davidson, CEO.
To watch the Freedom Flask in action or for additional information, please visit http://www.freedomflask.com, "like" them on Facebook, or follow them on Twitter (@FreedomFlask).
Please drink responsibly. Alcoholic beverages are intended only for those of legal purchase age.
About Freedom Flask:
Founded in 2010 by college students in need of a better way to conceal alcohol in transit without incident, Freedom Flask products are proudly made in the United States of America and available for shipping nationwide.