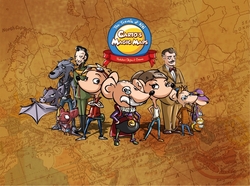 Singapore (PRWEB) October 26, 2009
Wiglington and Wenks Worldwide Pte Ltd has launched Carto's Magic Maps - a series of free hidden object games offering hours of non-stop fun featuring dozens of countries with over 50 hidden object stages, mini games and hundreds of beautifully rendered graphics by award winning new media and 3d animation studio - MediaFreaks.
Carto's Magic Maps is the curtain-raiser to The Travels of Wiglington and Wenks - a virtual world for kids scheduled to launch this Christmas Eve.
From the start, The Wiglington and Wenks Virtual World decided to differentiate itself from other virtual worlds through a rich background story and engaging characters. Now it has gone a step further by launching a casual game that tells the exciting adventures of the brave explorer water rats Wiglington and Wenks before they set up Wiglington Town where the adventures in the virtual world begin.
In the game, Wiglington and Wenks go in search of Carto's Magic Maps - a mysterious ancient cartography that allows the bearer to travel back in time, forward into the future and even into outer space. Players will experience the rich storyline in countries around the world and also enjoy the hidden object game scenes rendered in beautiful graphics.
"The hidden object game genre is popular with gamers and fits the adventuring theme of Wiglington and Wenks perfectly. Through Carto's Magic Maps, players will learn about other countries and also engage with Wiglington and Wenks on a deeper level. It is our intention to create a strong brand identity for Wiglington and Wenks. This strategy is already yielding results with several licensing proposals in discussion. In the long run, we will be looking at creating more of such free online adventure games for kids based on the Wiglington and Wenks franchise." Comments Aldric Chang, Chief Executive Producer and Creator of the Wiglington and Wenks Virtual World.
"No other virtual world for kids comes close to what we are offering. We are massive, with more than 100 scenes, over 50 games, island and house building features, a travel wiki, environmental and educational messages and many other features interwoven into an online entertainment package to nurture the young. Consider Carto's Magic Maps just the appetizer." Says John Bittleston, Author of The Travels of Wiglington and Wenks.
For additional information on Carto's Magic Maps, please visit http://www.CartosMagicMaps.com.
About The Travels of Wiglington and Wenks Virtual World
The Travels of Wiglington and Wenks Virtual World is an exciting new massive online virtual world for kids aged 7 to 14 due to launch on Christmas Eve 2009. Parents can look forward to an educational and safe site for their children where they will be learning about history, geography, landmarks, famous people, inventions, animals and more. Children can expect hours of exploration fun.
About Wiglington and Wenks Worldwide
Wiglington and Wenks Worldwide Pte Ltd is the parent company of the joint venture between John Bittleston, Eliza Quek and MediaFreaks. John Bittleston is Chairman and CEO.
About Mediafreaks
Mediafreaks is an award winning Singapore-based tech new media entertainment and 3d animation studio focusing on interactive digital media and animation products and services, with multiple monetizing models in the form of subscriptions, micro transactions, advertising, licensing and sales.
About John Bittleston
John Bittleston, is a British business man whose career spans Marketing, Advertising, Public Relations, International Management, Author, Columnist, as well as Business, Career and Personal Mentor to over 4,000 Mentees through Terrific Mentors Pte Ltd.
About Aldric Chang
Aldric Chang is the Founding Managing Director of the Mediafreaks group and is best described as a creative entrepreneur with business interests in animation, cartoons, interactive digital media, internet marketing, web 2.0 and music. He shares tips on how to make money online on his blog.
###