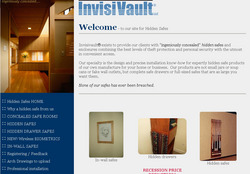 Professionally hiding a safe is better than relying on a massive safe that dares the thief - it's safer for you
East Hampton, NY (PRWEB) April 28, 2009
InvisiVault announces recent additions to their selection of concealed safes particularly with regard to their hidden drawers, used for effectively hiding valuables while keeping them highly accessible to the owner.
Now featuring state-of-the art- wireless opening capabilities with a biometric switching device to open, InvisiVault's hidden drawers remain invisible to a prospective thief or to anyone who does not know it is there, yet the items are readily available in about one second by activating the concealed switch. The hidden drawer is constructed of 10 gauge steel and has a proven record of success as an anti-theft device that is unrivaled in the industry. Further, these drawers can be accommodated in a number of locations, from larger homes to small studio apartments. They are easy to use, provide ultra-convenient quick access, and are completely secure for your valuables.
And to make them affordable to a wider audience, prices on these safes have been significantly reduced, from $1850 to $1450, plus shipping and handling, for the 15 inch standard drawer. Prices for custom drawers are available by contacting a InvisiVault consultant. Optional accessories are also available.
"Many safes are so inconvenient to use, they're like tombs. You either end up not using stored items anymore or you leave some valuables exposed, so you can get to them more easily, but then they're not safe. You won't have that conflict with our hidden drawer safes" says Mario Bladuell, President of InvisiVault.
The hidden safes offered by InvisiVault resolve common issues that prevent many people from adequately protecting their valuables, particularly useful for safeguarding handguns. Invisivault handgun safes allow quick access to protection while the weapons remain sufficiently protected from theft and children.
InvisiVault provides a variety of home protection vaults in addition to hidden drawers, safe rooms, concealed wall safes, walk-in safes, and more. Items can be tailored to customer need.
A theft prevention system may be effective for deterring strangers from breaking in, but often valuables are snatched by people that actually have permission to be in the home. This warrants the use of disguising the in wall safe or handgun safe so that the thief is unaware of its presence.
"Professionally hiding a safe is better than relying on a massive safe that dares the thief - it's safer for you," points out Bladuell.
The InvisiVault website offers only a few examples of the types of safes and vaults they design and install, due to privacy and security concerns. For more information about InvisiVault's selection of hidden safes or to obtain a quote, visit Invisivault.com.
About InvisiVault:
InvisiVault is a local provider for the New York, New Jersey, Connecticut tri-state area. Together with its affiliates they have been building and installing custom-made safe rooms and hidden safes throughout the United States and in Switzerland discreetly for more than 25 years. InvisiVault specializes in the concealment of safes that carry the InvisiVault name, ideal both for the protection of valuables and for personal security. Installers are highly skilled and have been with the company for 15 years or more.
###