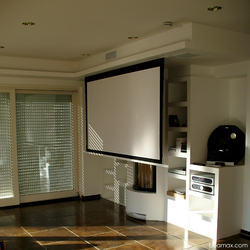 Overpelt, Belgium (PRWEB) March 12, 2009
The contribution that the projection screen makes in achieving the best possible quality from a home cinema projector is often unappreciated. Only a taut, perfectly flat projection surface can produce a projected image free from distortions.
The M-Tensioned In-Ceiling electric projection screen provides customers with an alternative screen to traditional fixed screens - formerly the only way to achieve consistent flatness. Fixed screens are fine if installed as part of a dedicated home cinema room, but a potential problem in a room that has multiple purposes.
Otto Tromm, founder and managing director explains how the M-Tensioned In-Ceiling range solves the quality versus flexibility dilemma:
"We want Beamax customers to enjoy a genuine Hollywood experience, but we accept that compromises are sometimes necessary to balance the use of space in the modern home. The M-Tensioned In-Ceiling range eases the choice for the customer by providing a top quality projection screen without sacrificing space or limiting the use of the room."
M-Tensioned In-Ceiling screens are made to order and offer the customer a range of options that will fit their needs precisely. The range of screen fabrics includes materials that can be matched to the technology and colour capabilities of the customer's projector. Others are acoustically transparent to enable the customer to place loudspeakers behind the projection screen for optimum audio performance.
M-Tensioned In-Ceiling screens are available with a viewable width of up to 3.65 metres, equivalent to a 165-inch diagonal in 16:9 format. The M-Tensioned In-Ceiling screen can be ordered in standard 4:3, widescreen 16:9 or 1:2.35 super widescreen formats. A black top border of up to 1 metre ensures that the screen can be positioned perfectly for comfortable movie viewing or gaming - even in a room with high ceilings.
For such a sophisticated solution, the M-Tensioned In-Ceiling range continues the Beamax tradition of competitive pricing, innovative technology and unbeatable service. The industry-leading Beamax warranty, for example, offers customers a free replacement screen, delivery and up to 4 hours of re-installation costs, in the rare eventuality that something goes wrong with the product.
Installation is quick and straightforward, requiring just 135mm of ceiling space for the casing. An M-Tensioned In-Ceiling screen can be fitted alongside a floor joist in a typical modern home. A false ceiling is rarely necessary. The M-Tensioned In-Ceiling incorporates a cover plate for the ceiling aperture. Customers can specify an optional finish, colour-matched to their ceiling.
To find out more, customers should contact Beamax for information and advice or to be put in touch with their local Beamax dealer.
The M-Tensioned In-Ceiling projection screen range is available now and costs from $2263 ( €1285 ex VAT, £1155 ex VAT).
For more information about the Beamax M-Tensioned In-Ceiling projection screen, please visit http://www.beamax.com/tensioned-inceiling
About Beamax:
Beamax is an international developer and manufacturer of home cinema and commercial projection screens and audio accessories. Based in Overpelt, Belgium, the company started in 2002 with just two ranges of projection screens. The company's range has developed considerably and its products are now sold through an international network of resellers.
Note for editors
Beamax M-Tensioned In-Ceiling technology:
Built into every M-Tensioned In-Ceiling projection screen is a fabric tensioning system to keep the projection surface consistently flat and taut when fully extended. This ensures that the projected images are free from any distortions.
Here's how it works:
1. The projection screen fabric is attached to an aluminium asymmetrical roller. The asymmetrical form prevents horizontal crease lines appearing in the fabric.
2. The projection fabric has an inherent elasticity so that it is flat
and taut when extended.
3. The screen fabric is attached to a metal bar incorporated into the base of the screen to provide vertical tension
4 An elastic cord is threaded through pockets in the sides of the screen fabric.
5. The action of lowering the screen increases the tautness of the screen surface.
###