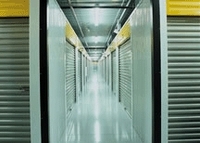 Our new Bronx location gives us another opportunity to continue building relationships with metro New York City
Atlanta (PRWEB) October 9, 2008
Safeguard Self Storage, a premium provider of self storage solutions, recently opened its sixteenth operating location in the New York self storage market. This self storage facility, conveniently located at 1253 Jerome Ave. in the Bronx (High Bridge, NY), will help supplement this community's growing demand for high-quality storage units and self storage space.
Safeguard has an established presence in the metro New York and New Jersey areas, currently with more than 20 locations in these two states. As is typical of Safeguard's many locations, Safeguard's High Bridge self storage facility is designed with security, convenience and customer service in mind. Amenities at this location include: Climate-controlled units (fully heated and air conditioned), a covered loading area, computer-controlled recorded access to the building, video recorded surveillance of the property, and individual door alarms on each unit.
Ken Finlay, Divisional Vice President, explains, "The new 1253 Jerome Avenue self storage location is the latest of our premium New York self storage facilities. Our facilities focus on providing a superior customer experience. Upon visiting the facility your will notice the superior blend of convenience and security, key factors to Safeguard's continue leadership in the NYC community."
"Our new Bronx location gives us another opportunity to continue building relationships with metro New York City," says Regional Vice President Andrew Khan. "We are excited for the opportunity that the new High Bridge location offers and we look forward to serving the residents and business people within the community."
High Bridge, NY Location:
Safeguard opened this Bronx self storage facility, located at 1253 Jerome Ave., on September 30, 2008. This self storage location has already rented nearly 100 of its 681 units. This facility has a variety of climate-controlled storage units currently available. The High Bridge facility is led by Manager Jerry Dominguez and Assistant Manager Duane Reid.
For more details, please call (718) 475-5640 or visit our website at safeguardit.com where you can reserve a self storage unit online.
About Safeguard Self Storage:
Safeguard was founded in New Orleans in 1989. As an industry leader, its brand hinges on high-quality, conveniently located facilities that feature innovative design, modern security and plentiful amenities. The company has over 70 self storage facility locations in FL, GA, IL, LA, NJ, NY, PA and VA. Headquartered in Atlanta, Safeguard defines success by meeting the expectations of its investors, customers and colleagues. Safeguard is a privately held company with a financial partnership with Morgan Stanley.
###